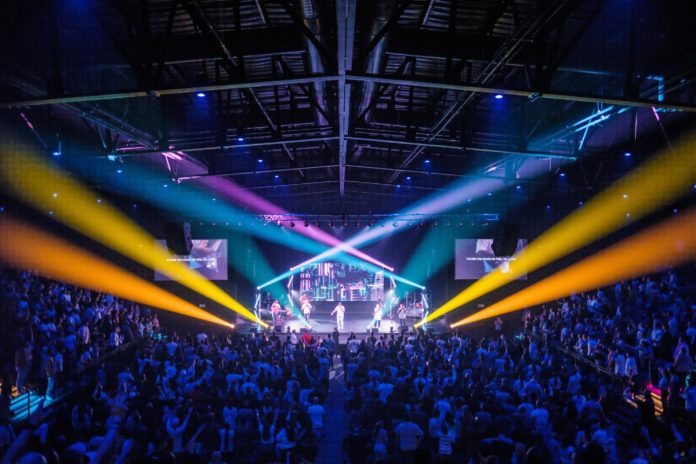 Stage Audio Works recently completed a successful installation of a new house lighting system at Unite 180 Church's new 2,500-seat capacity space in Pretoria.
The project, which commenced in April 2023, aimed to provide the space with a controllable RGBW house lighting solution that would enhance the ambience and overall experience of the congregation.
The decision to specify Stage Audio Works' Stage Plus house lighting solution was driven by the client's desire to achieve superior control, zoning capabilities, and a wide range of colour options to create dynamic lighting effects within their budget.
"We are thrilled to have partnered with Unite 180 Church to deliver a cutting-edge house lighting system for their new venue," said Lee Thomson, Sales Manager at Stage Audio Works.
"Our team has been working closely with Unite 180 on a number of projects over the past two years and were pleased to be able to recommend the Stage Plus house lighting solution for this latest project."
Stage Audio Works specified and deployed a bespoke system to enhance events and services at Unite 180.
At the heart of the system are 75 Stage Plus house lighting fixtures. This system emits powerful and vibrant beams of light and is intelligently controlled using Sonoff Relays and 10-zone control, allowing for precise management of different areas within the church.
To facilitate user-friendly operation, custom Windows touch panel PCs were installed, providing an intuitive easy-to-use interface. Ensuring seamless integration and overall management, the QSC Q-Sys platform serves as the central control hub.
Additionally, a Miktotek router enables IP control and remote support for the lighting system. Finally, a Visual Systems B-station acts as a dedicated lighting control station, allowing the Unite 180 production team to effortlessly orchestrate the entire lighting setup
"The house lighting solution from Stage Plus stands out due to its RGBW capabilities, DMX controllability, and exceptional cost-effectiveness," explained Thomson. "It provides Unite 180 Church with the flexibility to create captivating lighting scenes and adapt the atmosphere accordingly."
"Providing a value-engineered, controllable house lighting solution for Unite 180 Church has been an important undertaking for us," added Thomson. "We're pleased to have contributed to the enhancement of its worship experience."