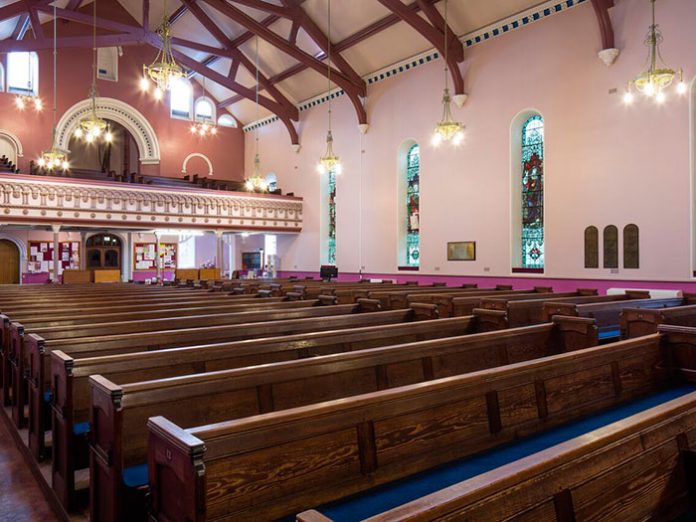 POLARaudio and Electric Orange Beat The Matrix with Wyrestorm at Liverpool Listed Church.
The Church of St Anne in Aigburth, Liverpool, dates back to 1837 and is a National Heritage Grade II Listed building. Built to offer Christian worship for the occupants of the "large houses' built at the time in the area, as well as local farmworkers, St Anne's congregation grew quickly and additions to the building followed in 1853 and 1913. Still a growing church, St Annes sits at the heart of its community offering not only a contemporary place of worship but also a space for a wide range of activities and musical performances. Modern day churches are often multi-purpose venues that require the best in AV provision – where new-builds can take this into account during the design process, listed Victorian buildings regularly present all manner of interesting challenges.
POLARaudio customer, Dan Orange of integrators Electric Orange, was invited by this forward-looking church to modernise its AV facilities. St Anne's wanted a system that could be used to present slides for notes, hymn lyrics and visual content to accompany sermons but that could also offer video facilities to be used in services, presentations and assemblies. A new PA system was required which could be combined to provide an overall AV system that was both flexible and competitively priced. Multiple displays were to be installed throughout the church to enable projection from multiple sources, including widescreen laptop and video recorder with cameras.
The possibility of adding future HDMI and VGA sources also had to be taken into account. Strict regulation surrounding the building's listed status meant that the installation had to be a inconspicuous as possible, with minimal physical impact on the fabric of the interior. Orange consulted with POLARaudio to determine the best way ahead, taking into account the church's budgetary and architectural constraints.
AD Systems i.Flex speakers were used throughout, chosen for their acoustic performance, numerous mounting options and pleasing aesthetic. Two i.Flex 10, two i.Flex 8 and a further two i.Flex 6 speakers were situated for optimum coverage. The speakers were powered by MC2 T1500 and T1000 amplifiers, delivering clean sound alongside ultra-reliable performance.
The distribution of AV signals in the most efficient and discreet way possible was central to the task at hand. The nature of the building and the constraints of its listed status meant that cable runs had to be kept to a minimum. A Wyrestorm SW-0501-HDBaseT presentation switcher and scaler was used in conjunction with five Wyrestorm AMP-001- 010 HDBase.
Receivers/Digital Amplifiers, enabling all required signals to be transmitted up to 70m using a single Cat5 cable to connect each amplifier via its transmission-repeating function. In this way all the required signals could be routed to the displays with minimal cabling. The audio output capabilities of the amplifiers also allowed audio to routed over the Cat5 from the video location, to be extracted at the amplifier nearest the Mackie iPad-controlled audio mixer. This completed a comprehensive AV scheme that offered thorough functionality, great value for money and preserved the integrity of the church.
Dan Orange of Electric Orange was pleased with the outcome: "Installing AV systems into listed buildings always presents challenges beyond the norm and in a church, it's especially important to achieve discretion and keep the impact to a minimum. The i.Flex speakers offered great sound and gave me options to mount them in a way most sympathetic to the interior. Their flexibility allowed me to 'hide' them in plain sight on the church's beams. The Wyrestorm system reduced what could have effectively been a matrix with multiple cable runs, to a single Cat5 cable, daisy chaining both video and audio signals. Using a single Cat5 cable was also a huge bonus in terms of the of the projector and main screen, which were mounted 8m above the floor. As a result, what could have been a real mission was made into a straightforward, great value and very tidy install. As ever, POLARaudio were very helpful and visited the site in order to recommend the most appropriate PA. We went with the i.Flex speakers and they look and sound great".
Dave Ball, Business Development Manager at POLARaudio added: "Dan had a clear idea about how he would meet the brief and deal with the obstacles presented by this kind of sensitive installation. The Wyrestorm solution really came into its own, saving a great deal of potential hassle. I visited the church to take a closer look and Dan was happy with my recommendations for the PA. Everyone concerned is very satisfied with the results and St Anne's now has a first-class AV system that offers a high degree of flexibility without having a detrimental impact of the interior of this listed building".
POLARaudio is an established supplier of key industry brands into the installation, MI and professional audio markets, with exclusive UK distribution for brands such as Renkus Heinz, Mackie, Beyerdynamic and Biamp. Offering impeccable choice, its large stockholding ensures fast delivery, while its staff offer the highest level of sales and technical support. As a supplier of intelligent audio solutions, POLARaudio also works closely with its network of specialist systems integrators, to offer a host of professional services to its clients, including system design, product integration, project logistics and programming assistance.