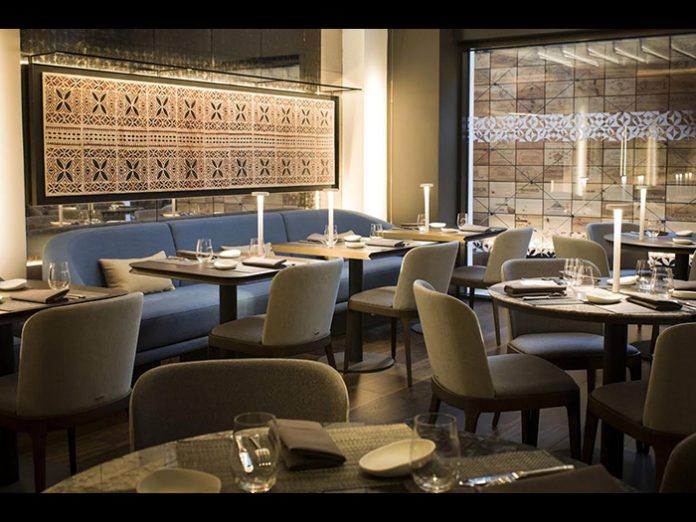 Situated on the less hectic northern end of Charlotte Street, London, W1T 4QH, recently opened Mere restaurant is owned and operated by husband and wife team, David and Monica Galetti. Monica currently appears as a Masterchef Professionals Judge and trained for more than sixteen years under Michel Roux Jr at Michelin starred Le Gavroche, whilst David's background includes being Le Gavroche's sommelier.
Mere is an elegant dining choice, with particular attention to the wine list, across two floors. A ground floor cocktail and snack bar serving twenty and a basement restaurant, seating sixty, provide less complicated and more formal dining options. Further options are also available at the Chef's Table and in a private Dining Room. The restaurant's name is a derivation of the French word for Mother and the Samoan word for Mary, Monica's mother.
London based specialist AV integrators Sound Division were originally called in during late 2016, after being recommended to Mere's owners, to design an audio-visual solution for the new restaurant. Installation of the solutions recommended by Sound Division followed, with the new restaurant and bar opening in 2017, Sound Division opting to use Cloud Electronics products for the restaurant and bar's audio requirements.
David Graham, Managing Director for Sound Division said, "We are pleased to have been invited by Mere's owners to provide a high-quality audio visual solution for the restaurant's staff and diners. Knowing Monica's reputation for her eye for detail, we opted to use a discrete and high-quality audio solution from UK manufacturer Cloud Electronics."
At the heart of the audio system is a Cloud DCM-1 Digital Control Mixer with audio outputs to Cloud CXV225 and Cloud CXA450 amplifiers. These provide power to a number of Cloud ceiling and surface-mount speakers across six audio zones. Source selection and localised volume controls are provided via the DCM-1 with Cloud CDR-1 flush-mounted control panels discretely positioned in convenient locations.
"Localised volume and source selection controls allow key-staff to adjust volume levels and change audio sources at positions around the restaurant and bar areas, if required, rather than needing to head back to the main control unit. This saves time and adds convenience.", added Graham.
In addition to the audio system Sound Division installed a large-format flush-mount Samsung display in the private dining room at Mere, with a live-video link to the Chef's pass in the kitchen, allowing diners to see dishes being prepared prior to arrival at the table.
"Sound Division has been fortunate to work with a number of prestigious venues across London since the company formation in 1990. This is the third restaurant in Charlotte Street alone where we have been called in. We regularly opt to use products from Cloud Electronics for these high-end projects as we know the Cloud products offer high-quality, reliability and dependability, values important to us and our clients", concluded Graham.
Further Information:
Sound Division
Sound Division has been providing London with high quality AV solutions since being established in 1990, regularly designing, supplying and installing state-of- the art sound systems and LED lighting installations for top West End venues, in addition to technical production and DJ entertainment for corporate and private events.
Cloud Electronics Ltd
Cloud Electronics, UK manufactures high-quality commercial audio products including Zone-Mixers, Multi-Channel Amplifiers, Paging Microphones, Headphone Audio Distribution and Loudspeaker products for audio applications in Retail, Hospitality, Education, Commercial and Leisure markets.
Cloud continues to expand its product range to meet the needs of many different venues. Cloud equipment is at the heart of more than 100,000 establishments throughout the world from ocean liners to houses of worship, from five star hotels to Michelin-starred restaurants as well as the high street outlets of the world's best-known brands.
Cloud Electronics USA has been operating since 2012, located in Park City, Utah providing sales, system design, stock distribution and after sales support in North America. All Cloud products carry a Commercial 5-Year warranty.
For further information visit www.cloud.co.uk.