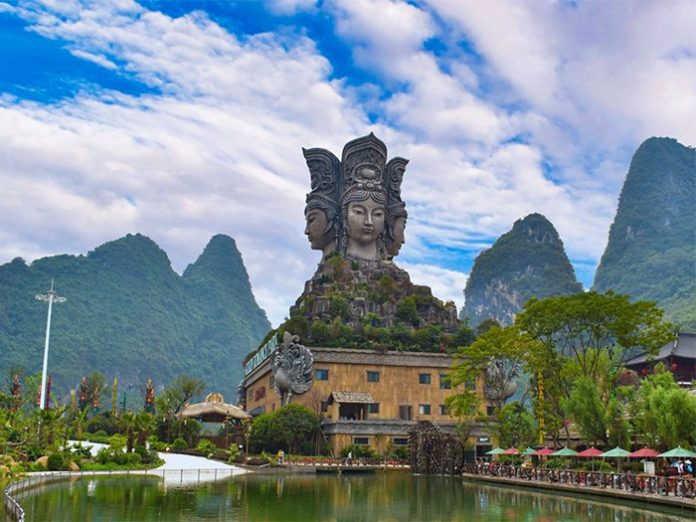 The Songcheng Group is the first performing arts company in China to go public and is also a global top 10 theme park group. With its core competence in performing arts, Songcheng Performance has built a number of established brands including 'Songcheng' and the 'Romance' show series. The company owns 74 theatres with a total capacity of 175,000 seats, which exceeds the combined number of seats available in two of the world's most famous theatre districts, namely London's West End and Broadway in New York. In fact, the spectacular 'Romance' series of large-scale, hi-tech productions has broken box office records with more than 8,000 performances per year to an annual audience of over 35 million people. Recently, six of Songcheng's ten dedicated 'Romance' theatres – many of them sited in dedicated 'Romance' theme parks across China – have upgraded to powerful KV2 Audio sound systems.
Songcheng's 'Romance' theatres are high-capacity, Vegas-style structures that have been specially designed host dazzling, large-scale productions with incredibly complex sets designed for maximum visual impact. Each 'Romance' show is specific to the area where it is staged, re-enacting local cultural legends in song, dance and breathtaking acrobatics. Audiences can expect a stunning show at every level – visually, aurally and technically.
All Songcheng 'Romance' productions use advanced sound, lighting, effects and staging technology to interpret a period of China's classic history. As with every other element of the production, the audio has to be world class. Songcheng Performance opted for powerful KV2 Audio systems based on the flagship VHD Series of high performance point source systems for the main FoH system supplemented by the extremely flexible and scalable ES Series for delays, surround sound and effects. The combination provides extreme clarity and true dynamic range to a complex soundscape. The use of point source technology – especially the VHD systems – to cover large spaces has significantly reduced the amount of loudspeakers (and amplifiers) required, saving both space and money as well as reducing the visual impact of the system in the theatre. It also ensures a completely transparent reproduction of the sound source – be it voices, instruments or anything else – so that audiences experience every detail exactly as it was produced.