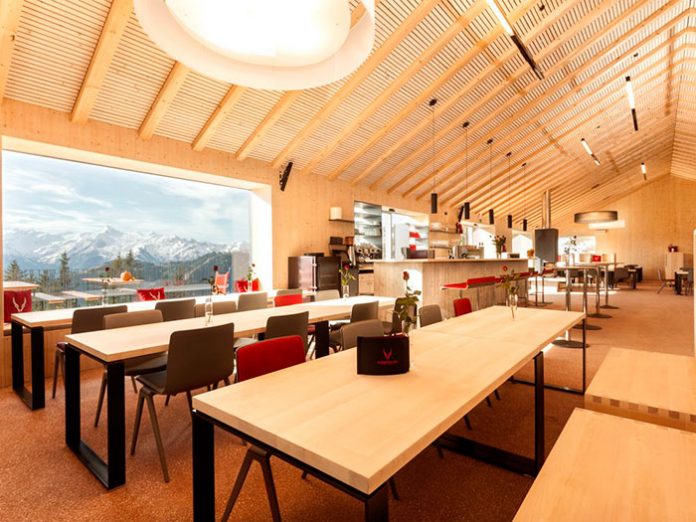 Situated in the heart of The Alps, at 1,720m above sea level in one of the greatest skiing resorts of Austria, The Schmiedhofalm Ski Lodge in Zell am See has recently undergone renovations for the first time in its 46 years in operation.
With ambitions to serve traditional Austrian cuisine to a larger crowd of up to 300 people in addition to offering live music on the regular all the while providing a great view over the lake of Zell am See, the lodge's owners were confronted with remodelling the existing building and with that, the old audio system.
Karl Wienand, K-Array product specialist at Musik Lenz, designed the entire concept to meet the acoustic needs of a modern event and dining facility as well as the demands of the owners.
A total of 6 individually controlled zones were updated using four half-metre kobras and a KMT18p sub in the main bar, ten tornados combined with five KU36 subwoofers throughout the restaurant, two half-metre pythons and a KMT18P sub at the outside bar and eight tornados paired with four KU36 subs in the terrace area all driven by KA24 amplifiers.
Several different sources were connected; A music computer, the TV signal and also a connection point for external MP3 players were installed. The system even allows bands and performers to connect their system to the house system and vice versa.
Ultimately, the client was satisfied with their decision to go with K-Array: "We are very pleased," states the Mayr-Szummer Family, Owners of Schmiedhofalm. "By combining the various K-Array Models we were able to create an ideal sound, neither intrusive nor too quiet. The clear tone produced by the system justifies our decision and gives you a feeling as if each is played live.