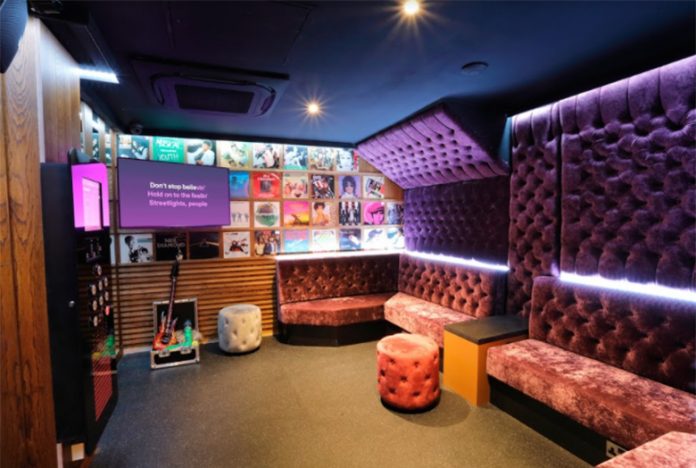 Shure, a leading manufacturer of microphones and audio electronics, is pleased to announce that, in collaboration with Pro Audio Systems and PSA4AV, it has upgraded the microphone system at Lucky Voice's Holborn venue, with the new to market SLXD Digital Wireless system.
Lucky Voice first opened its doors in 2005 on a mission to bring the joy of singing to the UK with karaoke venues. Lucky Voice is on a mission to spread the joys of karaoke far and wide, growing a franchise and licensing business to add private karaoke rooms into venues as varied as clubs, theme parks, hotels, and beyond.
In 2019, Lucky Voice opened the doors to a brand new 5,000 sq ft venue in Holborn, which is home to 10 state of the art karaoke rooms and had a requirement for a minimum of 20 microphones. 
Supplied by Pro Audio Systems and installed by PSA4AV, Lucky Voice had a requirement for a high quality, wireless microphone system that was going to stand the test of time. Craig Walmsley, Senior Technician, PSA4AV stated: "Lucky Voice have been previous users of Shure and we knew that was the only brand that was going to meet all the requirements of the brief. We were really pleased to be the first to get hold of the brand new SLXD Digital Wireless system, in partnership with Peter Butler at Pro Audio Systems who worked closely with us on this project. 
Phil Yates, Operations Director, Lucky Voice commented: "In tandem with losing one of the frequencies we were using for our previous microphone system, we decided when re-opening the Holborn venue post-pandemic, it was time to upgrade our microphones. The microphones we had installed weren't standing up to the test of the environment and the Lucky Voice brand is centred around providing the best premium karaoke experience. The Shure SLXD Digital wireless system has been representative of our brand values. The system is reliable, sounds amazing and most importantly for a venue like ours, it is sturdy and robust. We are very happy with the solution and more importantly, our staff and customers are too." 
With another two venues in London and one in Brighton, Lucky Voice plans to roll out the Shure SLX-D wireless system across their estate. Stuart Moots, Director Pro Audio, concluded: "When SLX-D was introduced last year, it was designed to offer the same robust reliability and legendary audio that has been core to all Shure products and in a scalable system. It is great to hear that Lucky Voice, and all those involved, chose SLX-D for these reasons and that Shure are able to provide the best solution for their venues."