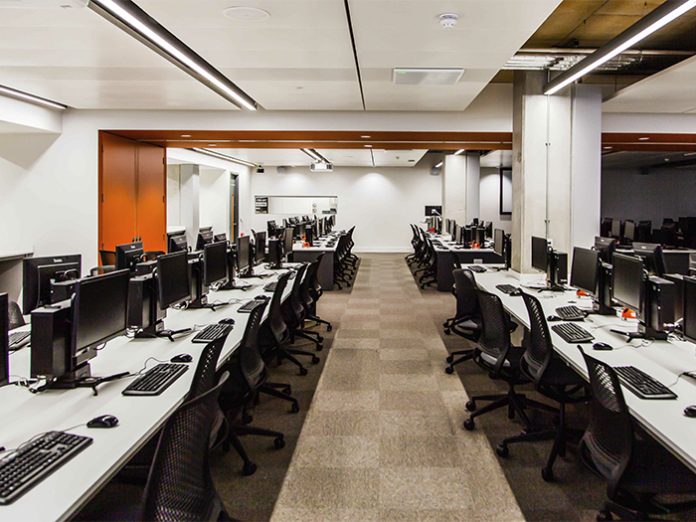 With over 14,000 students, including 4,500 international students, the University of Bedfordshire is recognised as 'internationally excellent' in the areas of Computer Science and Informatics and Business and Management Studies.
Now, with the addition of a new £40 million state-of-the-art teaching and laboratory space for Science, Technology, Engineering and Mathematics (STEM) courses, the University aims to build on its already strong STEM offering, thanks to an ambitious AV project incorporating Shure's Microflex Advance MXA910 IntelliMix DSP Celling Array Microphone platform. This has provided students with a superior learning environment, as well as raising the profile of the University.
Set out over four storeys and incorporating 6000m2 of floorspace, the University's STEM building will also support and encourage the value of science and engineering to local schools and the wider Bedfordshire community.
Discussing the initial project, Malcolm Butler, Senior AV Programmer and Planner, Bedfordshire University, said: "When the STEM building came across our desk, I said that if this was going to be the 'jewel in the crown,' then it needed to be the shiniest jewel we can possibly make it.
"We wanted quality, we wanted durability. From a delivery standpoint on output, we wanted fidelity and clarity. We wanted something that was quite easy to use, and then simple to service from a support standpoint as well."
Consultancy, design and integration of the project was awarded to Lancashire-based AV specialists, PureAV. Working with the project architect, Shure's MXA910 were positioned to ensure coverage across the entire space and enabled the use of Voice Lift systems across the building.
With the systems in place, Dan Saville, Project Manager and System Designer at PureAV, described the ongoing support and maintenance required to ensure an efficient and effective audio solution as "fantastic".
"As with most Shure products that we put in, we generally don't get any call backs," explained Dan. "Once it's in, it just sits there and works.
"It's a robust, solid product that just keeps doing what it needs to do."
Malcolm elaborated: "When we decided that this was the solution we wanted, [Shure] were able to come in and say 'We can help you engineer that'.
"The engineers were able to come in and tune the room exactly to where we need it. There isn't much else that needs to be done from our side."
Expansive, multi-functional computer laboratories across the first and third floor all benefit from Microflex Advance MXA910 IntelliMix DSP systems, with QLX-D Digital Wireless systems in place for presentations from the lectures.
Dan explained: "Dante is enabled on the microphones. The lecterns have six or seven different positions where you could possibly plug the lectern in, which meant that we could do it over the University network, and wherever we plugged it in, it would just work.
"If it was a traditional system, we wouldn't have had that ability."
The benefit of the Shure systems at University of Bedfordshire now means that academics can provide students with an educational experience across a large educational environment, with the systems in place and configured to provide a unique, intimate setting, and offering an unobtrusive, natural sound.
"The way the technology allows things to be configured in different ways is a real benefit of the Shure product," added Dr Paul Sant, Head of School, Computer Science and Technology at the University of Bedfordshire.
"It really has engaged the students; they're switched on, more akin to asking questions."
Paul continued: "There's also far more lecture capture being used now. It offers an opportunity for everybody to have an excellent student experience, and to benefit from a high level of audio quality."