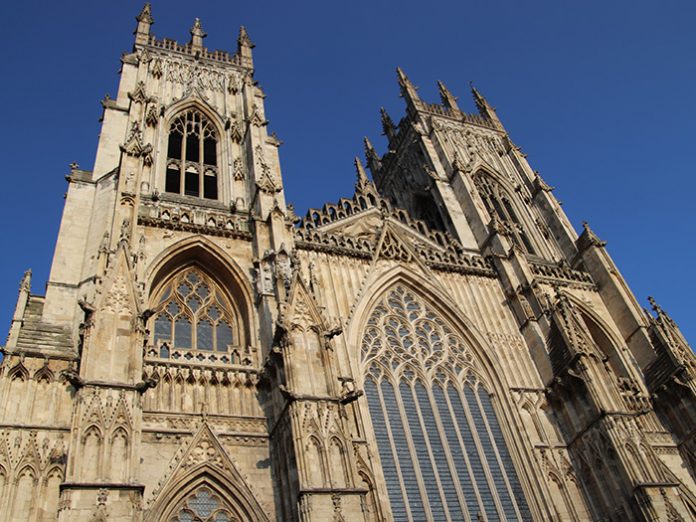 Shure, a leading manufacturer of microphones and audio electronics, worked with Wigwam, leading supplier of sound systems and equipment, to install a new audio system into the magnificent York Minster building.
The Cathedral and Metropolitical Church of Saint Peter in York, more commonly known as York Minster, is one of the largest of its kind in Northern Europe. The historic Minster building is justifiably seen as a national treasure and unsurprisingly boasts Grade 1 listed status with Heritage England.
Church leaders have been refurbishing and maintaining the precious building and an important part of the project was for the audio in the building to be crystal clear – both for music and the spoken word. As a result, the installation of a new audio system was commissioned, and the entire sound system has been upgraded. The system had to accommodate the wide variety of uses the building hosts, often with two or more events taking place simultaneously. There are up to 2,500 people attending events and every one of them needs to be able to hear the audio. Above all, the priority of the system was for ease of use since a variety of staff members without technical backgrounds need to be able to operate the system.
Working in a Grade 1 listed building presents a unique set of challenges. For York Minster, Wigwam worked extensively with Heritage England throughout the design and implementation of the project.
Dave McGuigan, Wigwam Installation Project Manager explained: "The listed status impacts the whole process right down to the smallest detail. You can't just start drilling holes in stonework that's hundreds of years old. So, every mount and fixing has to be approved and racks must be hidden, and we weren't even able to clip cables to the stone pillars, so these have been glued in place and then RAL colour matched to further reduce their impact."
Other restrictions with a building of this kind include audio racks which have to be placed further away from the antennas than is normal and long cable runs to accommodate.
Phil Goldsworthy, General Manager, Sales, commented: "The Shure system works flawlessly. You can go anywhere in this building and have no dropouts in the audio, the fact that this system works so well with the extreme length of cable runs that are required, is absolute testament to the Shure equipment."
"It's a privilege and an honour to work with Wigwam on the restoration of such an important and historic landmark," said Dave Phillips, Shure UK Regional Sales Manager. "Setting up reliable wireless systems in a city centre is a challenge at the best of times, but the restrictions imposed when dealing with a listed building make achieving reliable RF performance quite challenging. In these situations, careful antenna selection and placement is imperative to ensure against signal dropouts. In addition, given the heavy construction of the building — and the leaded stained-glass windows — you wouldn't necessarily expect to get a lot of heavy RF activity from outside the building, but in this particular location, we were. Shure has spent a great deal of time researching and developing wireless systems built to withstand these kinds of difficult conditions, and I'm pleased to see this hard work pay off on projects like York Minster."
Phil Goldsworthy, General Manager, Sales, is delighted with how the project has turned out: "The sound quality is second to none in a building of this type and the installation is incredibly sympathetic to the Minster. The system provides huge flexibility for a wide range of uses and is simple to operate. It has been a pleasure to work on this project and we look forward to providing the support for the system for many years to come."