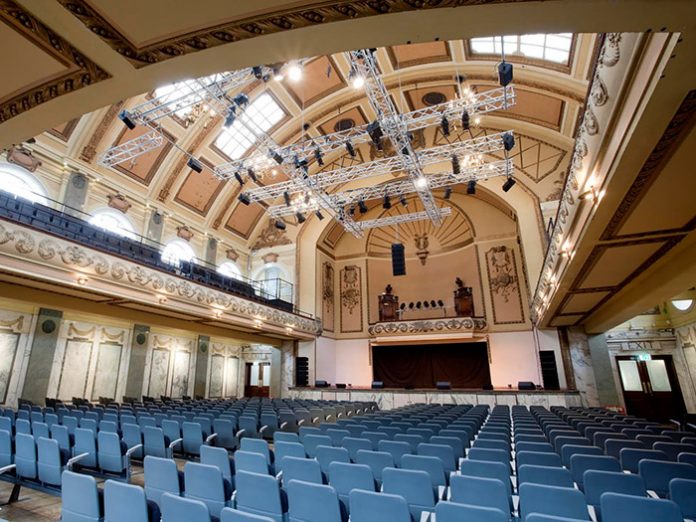 Shoreditch Town Hall, a splendid Grade II listed building in the historic east end of London, has recently transformed its status from an elegant but under-exploited function space to a fully-fledged, dynamic performing arts venue thanks to a major upgrade in order to realise the building's untapped potential. Two of the most significant investments have been the reinstallation of the balcony seating in the main Assembly Hall, transforming the space into a 750+ capacity venue, and the installation of a high quality audio system from EM Acoustics.
When it came to specifying an audio system, the town hall's Head of Production, Ian Moore, decided straight away to call on the services of Stage Electrics who were tasked with putting in a full sound and lighting system. Stage Electric's Paul Roughton, who managed the project, had no hesitation in recommending EM Acoustics for the audio.
"We were essentially starting with a blank piece of paper as there was nothing in the room at all," recalled Paul. "I recommended EM Acoustics immediately as I know their products to be of extremely high quality and very good value for money. We organised a demo for Ian and his team who were delighted with what they saw and heard, so EM's Ed Kinsella and I set about specifying the system."
The system that was ultimately installed comprised 18 HALO-C compact line array elements split into L-C-R. The centre cluster of 6 HALO-Cs was flown with the L-R sides each ground-stacked on top of an EMS-118 subwoofer. Three EMS-61s act as front fills across the front of the stage whilst the balcony is covered by eight EMS-81X cabinets. The installation is completed by four of the recently launched M-C12 stage monitors and the whole system is driven by four, also newly-launched, EM Acoustics DQ20 amplifiers fitted with Dante networking cards. Indeed, Shoreditch Town Hall is the first customer to benefit from the new networked amplifiers.
"It's an excellent system that has already proved itself on our first shows," remarked Ian. "It ticks all the boxes for us. Acoustically the Assembly Hall used to be a tricky space because there is a lot of beautiful, but highly reflective marble. However, we have received excellent feedback from our first few shows and I am very happy with the sound quality we achieved."
"As well as the obvious criteria concerning sound quality, the system also needed to be flexible," continued Ian. "In other words it had to be able to handle anything from music to theatre to comedy and more besides. The beauty of this system is its small profile and that it is very simple to put together, which means we can have it broken down and set up again in a different configuration in a different part of the building, or even several parts of the building in no time. It has opened up the possibilities of what we are able to offer to the public enormously. We're delighted, and many thanks to Stage Electric and EM Acoustics for a tremendous job."