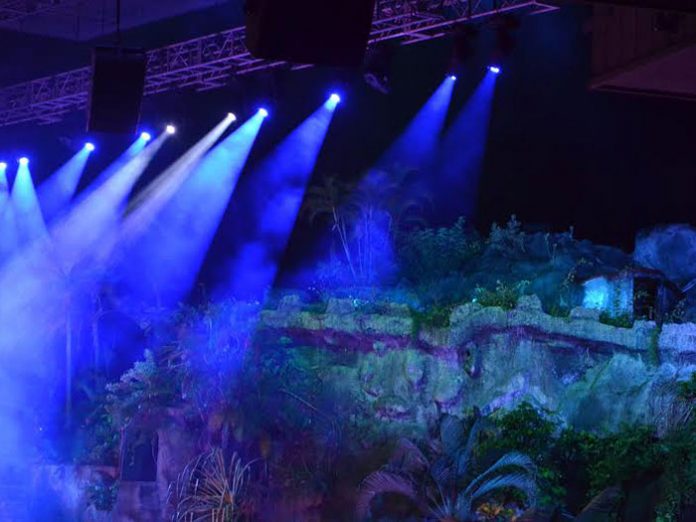 At the Polynesian Cultural Centre in Hawaii, Richard Sidal operates as Theatrical Computer System Analyst, handling all computerised lighting systems as well as maintenance, installations and programming of some of the shows. Currently, he is also working on upgrades for the theatres and Luau venues, which includes a comprehensive fixture replacement that started last year.
After experiencing a lot of issues and constant breakdowns and repairs of their 1,200W spots, despite the fact that they were placed under protective domes, the centre decided it was time to renew the lighting rig. Situated close to the sea, Richard is well aware of the challenges of the site: "We are an outdoor venue and very close to the sea. Sea breeze carries a lot of salt and moisture ruining all metal parts as well as high humidity. Plus the show uses lots of flames and the oil residue goes right into the fixtures. When I first saw the SGM G-Spot, it was in a pool of water with water dripping from the top. That was exactly what I wanted, something that was sealed and waterproof. Something that would stop moisture and salty air from corroding the lights."
Brent Pritchett from 4Wall Entertainment first introduced Richard and his team to the G-Spot at LDI 2014, after which Technical Service Manager Sakaraia Yalimaiwai quickly placed the first order for IP65-rated seawater resistant G-Spots. Richard had the pleasure of installing the first G-Spot units together with Lighting Technician, George Pasi, before Pasi sadly passed away.
With 12 G-Spots installed last summer for the amphitheatre, Pacific Theatre, which is also the main venue for the Evening Show, PCC is looking to add another 12 units to their stock this summer. "We are planning to eventually have 48 G-Spots in the show to replace all our movers," Richard confirmed. He continued: "My favourite feature is that the G-Spot is IP65-rated, and I am happy with the way it has worked for us with our weather conditions here in Hawaii. It is doing well on rainy days and handles all the smoke well. In Hawaii, when it rains, it rains sideways. The sea breeze pushes the rain inside your theatre and usually the outer truss is dripping with water. With our current moving heads, I usually lose about three when it rains hard – even with the weather domes. The SGM G-Spots have been working even with all the rain. It is a much needed relief for me to know that I can have all my fixtures working during our show."