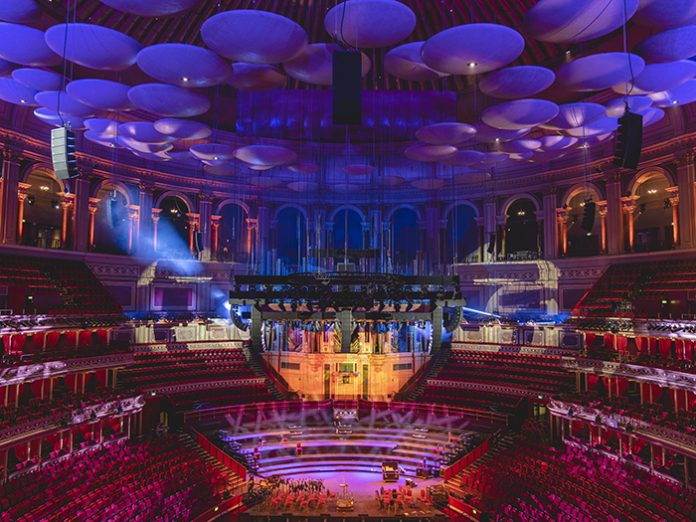 The 2019 Olivier Awards marked the official launch of a brand-new audio system at London's Royal Albert Hall. Completed at the end of last year, installing this game-changing system at the world's busiest venue in its busiest year, and doing it with no interruption to its schedule, was no small task. But it was one that audiovisual production supplier SFL met with its ubiquitous combination of professionalism, flexibility and enthusiasm.
Opened in 1871 by Queen Victoria, the Royal Albert Hall (RAH) has been on the entertainment map ever since and brings an unrivalled wealth of heritage to the UK's musical venue map. Today, it also boasts the title of the world's busiest venue, so it may seem surprising that it has not seen such a radical refit since the installation of the iconic acoustic 'mushrooms' in the late 1960s. Now, this £2 million project heralds unprecedented improvements to sound in the auditorium and makes it one of the world's most highly-specified refurbishments.
Initial talks about the project began between SFL and the RAH in April 2018, with a completion date set for mid-September. Pat Smith, SFL project manager, oversaw the mammoth task, ensuring that the largest ever single-room speaker installation was completed on time, despite its many challenges and heritage considerations, at times working from architects' drawings more than 150 years old.
The audio inventory includes 465 boxes of d&b audiotechnik loudspeakers and includes the first-ever Circle, Gallery and box loudspeakers.
The project also involved the installation of new audio facilities panels and a substantial audio data network to support the integration of the Hall's new DiGiCo mixing consoles. A combination of fibre and Cat6 infrastructure supports both Optocore and Dante digital audio transport, with a Cisco network backbone designed and configured by SFL.
"The RAH is an incredible building and it is a privilege to work in, but it is also constantly throwing new challenges at you, so we had to adapt and respond flexibly throughout the project," Pat recalled. "It's a product of a different architectural era: beams that go one way on the original architectural drawings go another way in real life; there isn't always a lot consistency throughout the building, so you never quite know what you're going to find. For the speakers in the boxes we had to lift floorboards in every box on the Grand and Second tiers, lifting ornate and delicate carpet with the knowledge that, if it was damaged, we would have to replace the whole lot. We're pretty sure that at times we were working in areas that haven't been disturbed since the venue was first built. That was a profound realisation and a lot of responsibility; at one stage we even discovered an antique beer bottle (now in the RAH archives) that must have been left by the original construction workers."
The venue's Gallery speakers are an interesting example of adapting to a difficult situation. Here, SFL worked closely with system designer Steve Jones from d&b. "Steve is a great system designer to work with and always brings an innovative approach. He really thought outside the box, ensuring that the unique opportunities available on a permanent installation weren't missed," Pat continued. "However, he also pushed us hard throughout the project, challenging us to deliver a solution with absolutely minimal compromise. For the Gallery Steve wanted to float a loudspeaker in front of each Gallery bay, in a location where there was no existing rigging position. By way of a small miracle we got heritage approval to create 23 new penetrations in the ceiling. We worked with Unusual Rigging who managed to suspend a small access platform from a concealed RSJ that was fortunately in almost the perfect location so that we could get to the underside and drill in the desired place."
Part of what SFL brings to any project is the strength of its relationships with suppliers and manufacturing partners, which can be leveraged when something extra is needed for a project.
"When you combine the scale of the project with the architectural challenges and listed nature of the building, you realise that you're facing something that is really going to stretch the comfort zone of even the most experienced audio installers. In that scenario you have to put faith in the suppliers and sub-contractors you work with, this project was a prime example of that," said Pat. "We worked closely with a range of suppliers and contractors; some new, but many are companies we have decades of relationship with. ATP Projects did fantastic work on all the facilities panels, PowerDrive stepped in to produce the custom bracketry for the gallery speakers and VDC moved mountains to make sure we had more than 15km of cable on site when we needed it. We also drew upon on our close partnership with Hiykon in order to reinforce our in-house installation resource throughout the project."
Some sub-contractors were recommended by the RAH because of their familiarity with the venue, such as Adrian Eves, the joiner, and Pat's praise for them, along with electrical contractor VBS and access partner Unusual Rigging – all recommended by Steph Baldwin, the RAH's project manager – is unequivocal.
"Every aspect of the installation had to be subject to heritage approval and finished in a way that was cosmetically invisible," said Pat. "For example, as you make your way round the circle corridor, even RAH staff who have spent years in the venue failed to notice the new amplifier cupboards that have been installed to service the speakers in the boxes. The trick is always in the detail and Adrian's team did an incredible job of making sure that everything ties in naturally to the original features. It's truly impressive."
SFL installed more loudspeakers in six months at the RAH than it typically would in a several years of installs.
"It was a huge effort by the team," Pat concluded. "Everyone across the company played a role in making this happen, with over 40 members of our team directly contributing to works on site. Almost all the works had to be completed overnight, with public and client areas completely clear without any sign of the ongoing installation between shifts. 2018 was the Hall's busiest ever year, with over 300 events hosted without disruption during the project."
The result is that the system delivers quality and equality of sound to all areas in the house, consistency across the Hall's diverse programme, and better control for promoters and artists. And what is more, an impressive 94% of events in the first three months of the opening used the new in-house system. As the history books go, that is not a bad accolade.