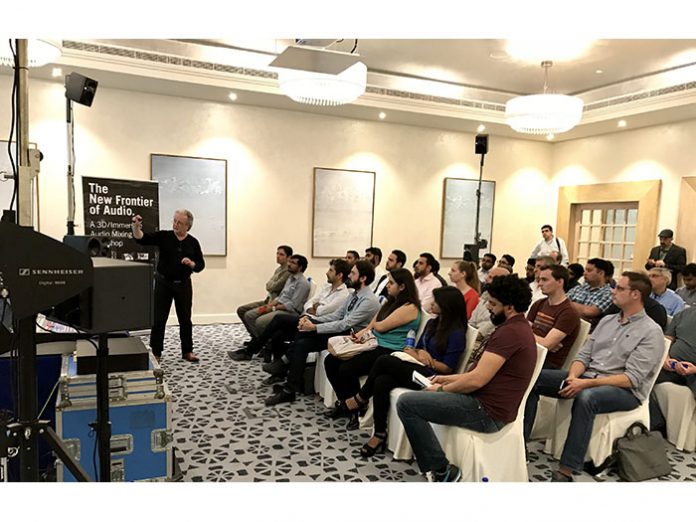 Virtual and Augmented Reality (VR/AR) has been a hot topic in the Middle East, dominating conversations at industry events and trade shows. However, while the capture of 3D video has received due attention, the importance of the accompanying 3D audio has been largely overlooked. In a bid to address this shortcoming, audio leaders Sennheiser, Dolby, Neumann and Lawo successfully conducted the region's first workshop dedicated to 3D audio capture, processing and mixing. The overwhelmingly positive reception and flood of early registrations prompted the extension of the capacity for the second workshop to accommodate all attendees.
Commenting on the regional awareness about 3D audio, Peter Van Dam, Technical Advisor – CEOs office at LIVE HD Broadcast Facilities said, "For now in the region we are limited to 5.1 in TV broadcast while immersive audio in TV broadcast is not really on the agenda. Workshops like this help create awareness to the region. Having the right people to explain it in a way that everyone can understand and see the need for it, combined with the new video technology and video standards, is a very good initiative."
Bruno Silva, one of the managers of Sound and Broadcast at Royal Opera House Muscat who also attended the workshop said, "The more manufacturers and brands promote these events, the better are the opportunities to raise the level of education in the region among professionals that are embracing this industry because it is new to them as well. So, these are all great opportunities and I think manufacturers have the responsibility to work together with institutions, schools and venues to promote and facilitate these types of events and eventually raise expertise in the region."
Each full-day workshop featured sessions on capturing sound in 3D, mixing, controlling and monitoring immersive sound formats, and establishing efficient encoding workflows for optimum results. Also included were listening sessions designed to expose attendees to audio content originally recorded in 3D as well as recordings upmixed using Sennheiser's patented algorithm.
Attendees were also introduced to 3D and object based audio formats – Ambeo by Sennheiser and Dolby Atmos respectively. Sessions that were particularly well received included one on 'Mixing immersive sound formats', conducted by Lucas Zwicker, Technical Product Manager Audio Production of Lawo and the session by Dolby presented by Senior Content Manager, Vikram Joglekar, which brought attendees up to speed on the company's latest developments and roadmap. Sharing his feedback, Bruno said, "The main highlight of this workshop for me was the live music capture, as that's what we do in the opera house Muscat." This session was presented by Tonmeister Gregor Zielinsky, International Recording Applications Manager at Sennheiser.
Both Bruno and Peter echoed the general consensus among attendees that there is need for more discussion around 3D audio in the Middle East. "I think more events like this should happen and perhaps there should be even more detailed workshops into all the three different areas we've seen here today and the related products. It's good to have these generic workshops, and it would also be good to see more detailed workshops in the future," concluded Bruno.
About Sennheiser
Sennheiser is shaping the future of audio – a vision built on more than 70 years of innovation culture, which is deeply rooted within the family-owned company. Founded in 1945, Sennheiser is one of the world's leading manufacturers of headphones, microphones and wireless transmission systems. With 20 sales subsidiaries and long-established trading partners, the company is active in more than 50 countries and operates its own production facilities in Germany, Ireland and the USA. Sennheiser has around 2,800 employees around the world that share a passion for audio excellence. Since 2013, Sennheiser has been managed by Daniel Sennheiser and Dr. Andreas Sennheiser, the third generation of the family to run the company. In 2016, the Sennheiser Group had sales totaling €658.4 million.
For additional information, please visit www.sennheiser.com.
About Lawo
Lawo designs and manufactures pioneering network, control, audio and video technology for broadcast and post production, as well as live performance and theatrical applications. Products include control and monitoring systems, digital audio mixing consoles, routers, video processing tools as well as solutions for IP-based A/V infrastructures and routing systems. All products are developed in Germany and manufactured according to highest quality standards at the company's headquarters in the Rhine valley town of Rastatt, Germany.
For additional information, please visit www.lawo.com.