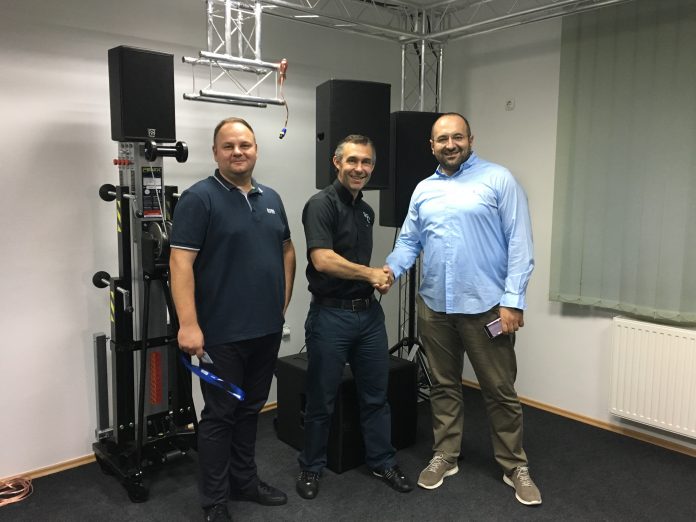 Martin Audio has appointed SD Sistemi as its new distributor for Bosnia and Herzegovina, the agreement was borne out of several meetings at trade shows this year.
The Bosnian specialists had first approached Martin Audio with a view to cooperation at ISE in Amsterdam, "During that show we attended the presentation of their new products which were really amazing and so we decided there and then that we wanted these products in our portfolio," stated SD Sistemi CEO, Dragan Šukalo. Bradley Watson, Martin Audio's EMEA Sales Manager, confirmed this, "When I met the SD Sistemi team at ISE, it was clear they were keen to work with us and following another meeting at Prolight+Sound where we spent more time with their team in the demo room, the natural step was to formally confirm them as Martin Audio distribution partner in Bosnia and Herzegovina.
Based in Banja Luka, the company originally set up in 2007 and although they didn't operate in the lighting and sound industry at the beginning, they have subsequently built up a portfolio of world leading brands and this now includes Martin Audio. Dragan informs that, "We had received offers from other prestigious brands but decided on cooperation with Martin Audio because of their reputation, the quality of their products and popularity of the brand around the world,."
He said that the company's mission was to drag a country that is lagging behind when it comes to technology into the modern age, "We have noticed that the market is now starting to offer huge potential and now is the right time to invest. There is an increasing demand for premium brands and Martin Audio will satisfy the needs of our customers and help modernise the entire market in our country."
Following the appointment, SD Sistemi already has CDD Live installed in its demo room, ready to show potential clients and in particular they see great potential both for this and the new BlacklineX series with a number of promotional and marketing initiatives lined up.
"Long term, we are convinced that Martin Audio will make a substantial contribution to our turnover," Dragan insists. Finally, to summarise, Bradley Watson concludes that, "I'm looking forward to a long and prosperous relationship for both parties in the coming years."