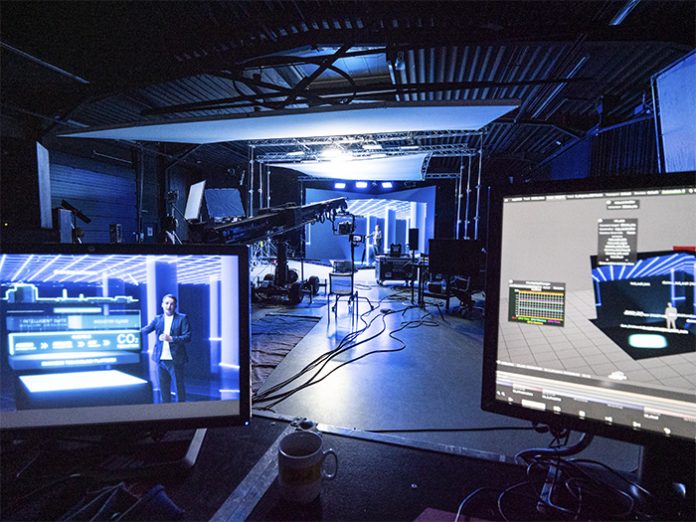 disguise xR technology (Extended Reality) has helped deliver the virtual edition of the 'Sapphire Now' conference, hosted by worldwide enterprise application software company SAP, who offer tools to enable easier virtual working for users. The 2020 global conference aimed to deliver the important message that a resilient response can drive a sustainable and profitable future to its workforce, customers and partners who, for this year, were a remote audience of over thousands.
Creative innovators, Purple have been involved with SAP's annual live conference for many years, and innovation was certainly required for the 2020 virtual event. Purple designed a video stream which created a virtual world revealed by LED video screens behind conference presenters powered by the disguise xR technology.
Purple teamed with Live Legends, a disguise xR Studio & Rental Partner to develop a workflow to integrate Purple's 3D assets into Notch real-time VFX and the disguise xR system. The disguise xR technology goes beyond traditional green screen to capture real lighting, reflections and shadows, blending virtual and physical worlds together using Augmented Reality (AR) and Mixed Reality (MR) in live production environments to create fully immersive experiences, allowing untrained presenters to relate to the content around them and feel at ease.
The customised disguise xR setup unlocked all new creative opportunities with the virtual environment for presenters that freed them from the confines of a typical stage. The main keynote by SAP CEO Christian Klein found him in many immersive graphic and live action worlds. Describing intelligent enterprise potential, he used the example of the path between ordering and receiving a Porsche – the luxury automaker is a SAP client. Recorded in a studio in Germany, SAP's event was streamed around the globe. The disguise xR setup enabled Klein to travel from home to inside the factory to various suppliers seamlessly and in the blink of an eye whilst filming from a single location.
"For each event we try to use a new method, technique or innovation," said Joost Rueck, Creative Director of Purple, "and while disguise xR is so new, Live Legends helped us to feel very confident in using it. With the disguise visualiser they could simulate how the presentation would look, what the camera would see and what our content would look like while the camera moved around."
The physical setup consisted of a LED floor and two walls that formed a studio cube. The camera was rigged with autocue and suspended from a crane with stYpe camera tracking. The leader video was shot in a cinematic style which had to be matched by the rest of the conference. Therefore, instead of a standard zoom lens a set of cinema prime lenses were used, which brought new technical challenges.
"In the early days of AR we had to do everything by hand, from patching and offsetting to UDP streams, to building range remap grids for zoom curves," explained Dave van Roon, Media Server Specialist at Live Legends. "The Extended Reality technology by disguise offers a calibration system with recorded dot patterns, similar to OmniCal, which streamlines the process and saves a lot of time," he explains.
"For this shoot we used cinema prime lenses, which have customised optics to create shallow depth of fields, which looks amazing, but comes with a fixed focal length. To zoom in would mean changing to a different lens that needed a different calibration. To make this possible we worked closely with the disguise engineers to come up with a workflow that allowed lens swaps in between sessions, without the need to recalibrate," he said.
While xR provided dynamics and immersive visuals to a conference that was unable to be held live this year, disguise xR holds promise well beyond virtual events, notes Purple's Joost. "I believe we're just getting started with the possibilities of disguise xR and can't wait to develop this in future projects," he declared.