Around 2,000 venues, places, landmarks, and monuments across the United States were lit in red for the #RedAlertRESTART campaign on 1 September to highlight the critical situation facing the live events and entertainment industry and the need for lawmaker's support of the RESTART Act (S.3814) to offer some sort of relief to the industry.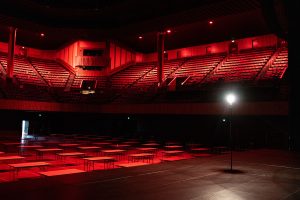 This latest red day of action was part of a wider industry campaign being led by the #WeMakeEvents movement. The idea of lighting buildings in 'emergency red' began in Germany with #NightofLightDE in June, and the concept caught on with red days of action, including #LightiItInRed on 6 July, #LightSARed on 5 August followed up by #WeMakeEvents action on 11 August, among others.
Installations lit in red by Robe fixtures across the United States included: Bill Graham Civic Auditorium, San Francisco; Video West HQ, Hubbard Radio and Shrine Auditorium in Phoenix as well as the Reno Arch, the Believe sculpture and the fascia of the Bruka Theatre.
Kauffman Center for the Performing Arts, Kansas City was bathed in a sea of red light with a permanent Anolis exterior LED lighting installation. "It was truly inspiring to see everyone in the business coming together to light it up red," said Craig Burross, Robe Lighting North America Sales Director. "Such an amazing spectacle spanning the country, and we are proud to be a part of the message."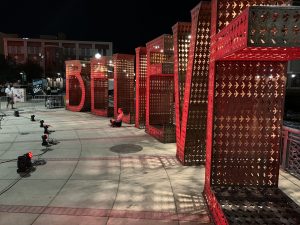 Bill Graham Civic Auditorium was bathed in deep red by 20 Robe ColorStrobe Lites, supplied by Felix Lighting. Roger Picone, Production Manager at Another Planet Entertainment, commented: "We work very hard at our jobs to remain invisible. The only time you see us is if there is a problem. We are now coming out from behind the curtain to bring awareness to elected officials of our plight. We were the first businesses to close and will be the last to reopen. The economic ripple effect of our industry is staggering. Restaurants, travel, hotels, retail shops, transportation, among others, are all affected by our decimation."
The Greek Theatre at UC Berkeley, Oakland's Fox Theatre and The Independent in San Francisco were among the establishments taking part in proceedings. Picone said: "Arts and Culture is what brings society together. We are vital to the recovery of this Pandemic, both economically and socially. Lighting buildings in red is a visually powerful tool for press, media and all the other communications needed to raise awareness."
Gary Guberman, Head of Technical Services; LD, John Priebe; Head LX, Bruce Olguin; Production Manager, Shane Williams and Electricians, Adam Weishshaar, Troy Garcia and John White lit three Reno landmarks with the Peppermill Hotel & Casino house lighting system.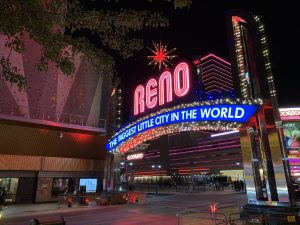 For #RedAlertRESTART, Reno Arch was lit in red with eight Robe Spiiders and eight LEDBeam 150s. The 12ft high letters of the Believe sculpture by Jeff Schomberg and Laura Klimpton was lit red with seven LEDBeam 150s – a fixture for each letter. Bruka Theatre on Reno's main strip was washed with four LEDBeam 150s rigged on a stand located across the street, with a gobo projected onto the building. All controlled via wireless DMX.
Gary commented: "I've worked on major shows all over the country in that time, and all my many friends who've also made their careers in live entertainment are now sitting at home not knowing where or when their next show will be. Some of these are right at the top of the industry. Hugely talented people who have worked shows that everyone has seen, but because they are behind the scenes, no one knows they exist," he added. "It's up to all of us to not let people forget we need help!" he states, adding that he still has over 20 staff alone still furloughed with no return to work date in sight."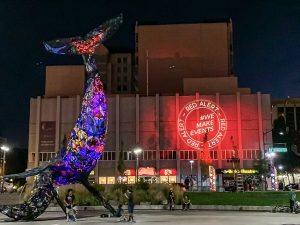 In Phoenix, the Video West HQ on 52nd Street was lit by 14 Robe ColorStrobes and six BMFL WashBeams. The Hubbard Radio building and the Shrine Auditorium & Event Center were lit with ColorStrobes. The HQ lighting crew of Donny LoDico, Silas Flores, and Dallas Sisson as well as Jim Merideth, Jack Karlen, Jeremy Mullen at the Shrine, Hubbard Radio and the imposing Ten-O-One Central office ensured each building glowed red.
Video West has over 600 Robe moving lights of different types in rental stock and Robe is a first choice for many of their projects. Director of National Lighting and Senior Account Executive, Donny LoDico explained how important it was being part of this campaign. "Millions of us are struggling to keep food on the tables and roofs over our heads. We really need to set our sights on getting through the first quarter of 2021 with little or no income, and the Restart Act – or as we like to call it now, the #RedAlertRESTART – will do just that and more as we gain momentum again."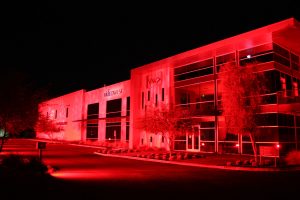 He emphasised the need to start working on a way forward to safely get people back into venues, on stages and tour busses, to restart the industry with guidelines in place. "If our industry doesn't start to push congress with standards, technology and processes to reopen, it will take twice as long!" he predicted.
Kauffman Center for the Performing Arts shimmered red for the night thanks to its permanent Anolis lighting installation, as did Spreckels Temple of Music in Golden Gate Park, San Francisco, which was lit with Anolis in-ground luminaires. LoDico concluded: "Not only doing what we all love for an evening, but we are doing it with a real purpose."