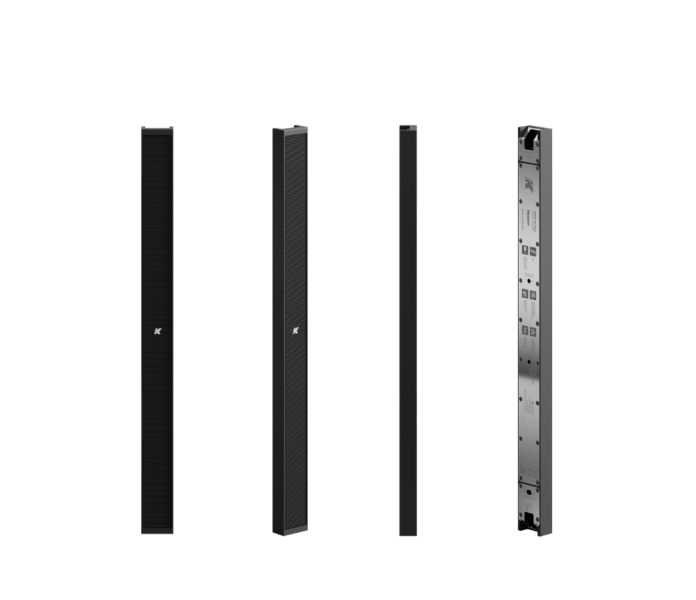 The all-new Vyper Mark II, an ultra-flat passive loudspeaker, is the latest addition to the K-array portfolio.
Designers utilising these speakers will experience seamless integration with a focus on phase coherency, low distortion, and focused listening.
The KV25 II, KV52 II, and KV102 II feature K-array's innovative Pure Array Technology, (PAT), and selectable impedance, housed in an elegant yet sturdy aluminium chassis.
The new frameless chassis, designed for elegant, discreet installations, is perfect for a clean, bracket-less application on any flat surface.
The Mark II Vyper also offers a newly designed recessed option: KV25R, KV52R KV102R, built for in-wall installations where speakers need to blend in and not stand out.
Available in sizes from 25cm to 1m in length, the Vyper will showcase impressive throw in any home setting.
The line is based around 1″ neodymium transducers that can cover from 8 to 30 feet depending on which loudspeaker is chosen, and even longer when cascaded.
With selectable impedance, users have the ability to select a resistance that suits their system and listening style best.
Thanks to the high impedance and the top-to-bottom pass-through connector system, multiple Vypers can be combined into a line of sound, making it a perfect speaker for home theatre setups and multi room audio installations.
Adding to these already defined cabinets, the Vyper II can be ordered in a custom Marine grade finish for applications needing to resist harsh weather conditions and oxidation.
Also on offer is the ability to customise any project by colour matching the system to any RAL code, Benjamin Moore or Sherwin Williams colour, and provide luxurious finishes to help to better integrate the speakers into a wide variety of areas.