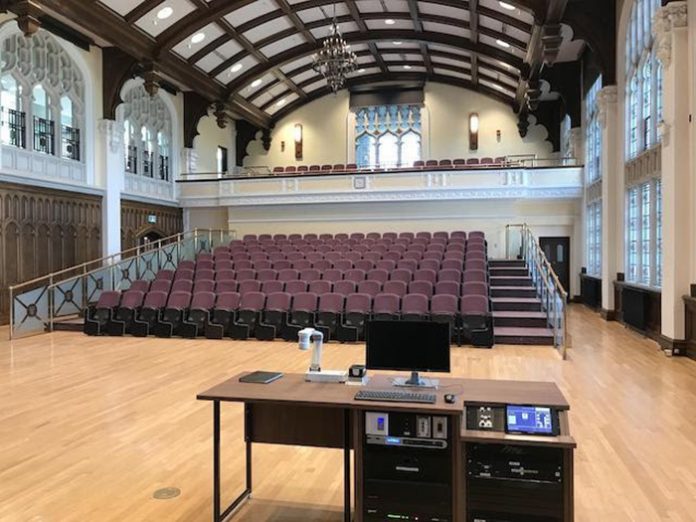 Since opening in 1925, Western University's University College building has served the school's Faculty of Arts and Humanities, anchored by the 178-seat Conron Hall. Conron Hall underwent architectural restoration, with some accommodation for audio reinforcement, in 1996, and in 2018, an extensive $34 million renewal of the building brought Conron Hall's AV technology up to current standards. A key component was a greatly improved sound system highlighted by state-of-the-art loudspeakers from Renkus-Heinz.
"Conron Hall is a special facility but it also doubles as a classroom," Chris Jordan, Senior Designer and Manager of the Classroom Technology Group at the university, pointed out, "so we wanted to install a typical classroom AV system that would, in terms of user experience, be consistent with our other classrooms." This was trickier than it sounds. Conron Hall boasts beautiful stained glass windows, oak paneling, oak beam construction, an arched ceiling, and a balcony in the back. Those features, combined with hard surfaces on the walls, made speech intelligibility difficult to achieve.
"The only absorption is in the seating," commented Dieter Kunz of DKE A-V Systems Engineering, an independent AV consultant who worked on the project. "The acoustics of the hall were perfectly usable for music performance, but the hall's primary use now is speech, and the acoustics were not appropriate for that." Chris put it more bluntly: "From 1925, when the hall opened, until the renovation in 2018, it was hard to understand someone who was talking in that space."
Limitations on the 1996 facelift prevented Jordan's group from installing a centre loudspeaker cluster, so they had put in full-range speakers bolted to the wall on either side of the proscenium. It was not an effective solution, which Dieter verified when he modelled the room and existing system in EASE acoustic simulation software. "I demonstrated to Chris that there was as much coverage at the presenter position as in the first two rows of seating, but not enough coverage in the middle of main floor raised seating, and no decent coverage at all in the balcony," reported Dieter. This exactly matched what people had reported hearing-and not hearing-in the hall.
Dieter focused his considerable skills on building an accurate acoustic model of Conron Hall. "I like to get as much detail in the modeling process as is necessary for a client to look at different scenarios and be prepared for the meetings that will come down the trail," he revealed. 
"I put in details like the placement of ceiling coffers, windows, beams, doors, pillars, railings, and so forth, so that if I had to take Chris into the space virtually, for example, he could think through with me what would happen if we raised or dropped the cluster by a few feet."
Next came a thorough process of sifting through options. "We looked at products from five manufacturers and did due diligence looking at configurations," Dieter reported. "We looked at front-loaded 'point and shoot' boxes, horn-loaded boxes, column arrays, line arrays, and steerable products and configurations like wall-mounted, central overhead-mounted, main speaker with delay speaker for the balcony, and so on. At the end of the day, the best solution was an array of Renkus-Heinz CFX101LA loudspeakers, which covered properly from the front of the non-fixed seating right up to the back of the balcony." 
Each Lab Gruppen amplifier had a home-run connection to a Symetrix Radius 12×8 DSP that handled all audio routing and processing. "The Radius processors are underrated but quite fantastic boxes," detailed Chris. "What we liked about the Symetrix box was that it was open framework, which allowed us to customize the audio chain however we needed to. It is an enterprise-ready network device with a forward-thinking design-a great Swiss Army Knife at a good price point."

The Radius handles inputs from end users' external analog sources, a jackfield, Lectrosonics and Sennheiser wireless microphones, and HDMI audio from a Crestron DMPS presentation switcher. Other equipment included a 17-foot-wide Stewart rear-projector screen and Epson L1500 laser-LCD data projector, a document camera, a customized rack computer and NEC confidence monitor, Solstice wireless AV collaboration, and a Listen Technologies auditory assistive transmitter.
User control is facilitated by a 10-inch Crestron touch panel with a custom GUI created by Nick Beneteau, a member of Chris's team. Chris's philosophy was to use quality products but keep the system simple, since complexity was not needed. Thus, users were given only volume control over two subgroups: one for program audio and one for microphones.
Everything was ready to go when classes started in Fall 2018. "I'd like, first and foremost, to thank Dieter for his expertise and his patience with me," Chris offered. "Top credit goes to my team, the Classroom Technology Group. CTG's AV integration staff had a lot to do last summer, and we completed this and many other projects within a tight timeframe. Jerry Storer and his crew from Soundco out of Kitchener, Ontario, helped us get over the installation hump. They are a small house, but they're reactive, professional, and very good." Canadian Renkus-Heinz distributor Contact Distribution coordinated Dieter and Chris's loudspeaker support needs.
Dieter was not surprised that his exhaustive evaluation process resulted in Renkus-Heinz loudspeakers in Conron Hall. "I've always had great confidence in Renkus-Heinz as a problem-solver. When I can't find a solution for a particular situation, I know Renkus-Heinz will have something that will suit the need."
Chris's perspective is more emphatic. "When we fired the system up, I knew by heart where the zones were from working with Dieter," he said. "I ran around the hall speaking into a wireless mic and listening for where the zone cutoff points were, and everything lined up perfectly. Even at the back of the balcony, we had a direct transmission line from the drivers to the listeners' ears, and it was totally clear. It was like magic. When a mathematical underpinning translates into actual experience, it becomes quite magical."