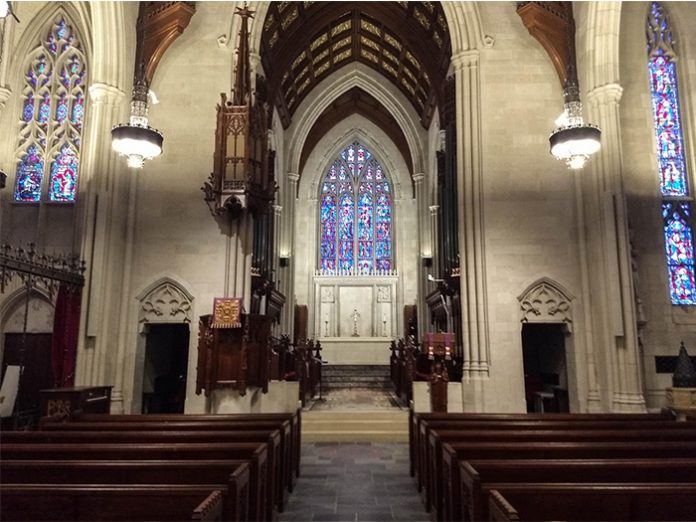 Chicago AV firm Kirkegaard Associates replaced the Kirk in the Hills congregation's out-dated sound. The team based the new design on Renkus-Heinz IC24-RN digitally steerable line arrays, part of the ICONYX Gen5 series.
Kirkegaard Associates principle consultant Jonathan Darling said: "The primary acoustic problem was that the space was too dry. One goal was to increase the reverberation time. We discovered that the ceiling panels were perforated metal, with absorption in the cavity behind them. Replacing the ceiling tiles increased the reverberation time in the mid band from about 1.6 seconds to about 2.1 seconds."
He initially tuned the system with three beams, with the goal of delivering equal energy to every pew. He tuned the main beam quickly. The second beam and third beams were intended to fill the front pews. But congregation reaction and practical experience resulted in adjustments.
"People in the front had too much volume," he detailed. People in the rear pews had the opposite experience: They wanted a bit more energy. "The throw to the back is 96 feet, and usually I allow the SPL to tail off about 3 dB in the back of a space because I don't want sound bouncing off the rear wall," Jonathan elucidated. "But at Kirk in the Hills, that back wall is sort of diffusive, so we didn't have a strong slapback."
While Jonathan does take advantage of the Renkus-Heinz ICONYX' tuning features, steerable beams were not the main reason he chose ICONYX for Kirk in the Hills. "The primary reason we chose the IC24-RN is that the church is very concerned with aesthetics, and the low profile and shape of the ICONYX could be integrated better than other solutions," he observed.
Another factor was that initially, Darling could not be certain what the final reverb time would be. "With ICONYX," he noted, "I had room to overcome even a significant increase of reverberation time. We could adjust the IC24-RN in DSP as needed."
The system's Renkus-Heinz IC24-RN arrays and Yamaha TF1 digital console communicate using Dante, managed with a BSS Soundweb London BLU-100 DSP. A smaller system, driven by Dante-enabled Lab Gruppen amplifiers, fills the two sections of the transept, with a similar system filling the choir area. Dante-enabled wireless mics have been proposed for the future.