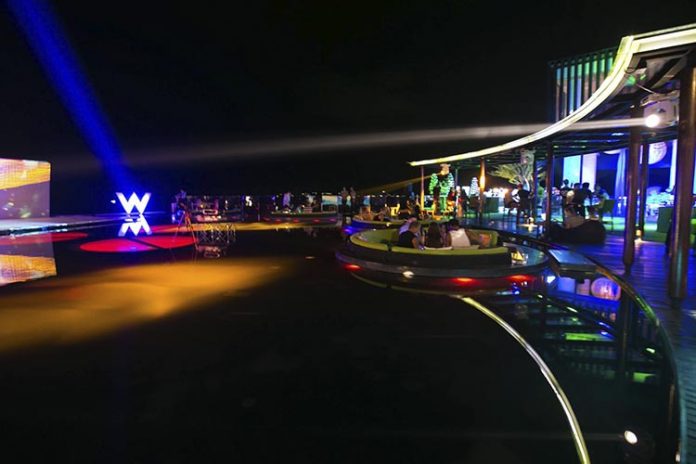 As anyone who has experienced the remarkable opulence available at its many top hotels and retreats will be aware, Thailand is hardly lacking in destination resorts.
But even among such esteemed company, the WOOBAR at W Koh Samui Retreat can be considered to be something special. Situated on the island of Koh Samui, it offers the chance to savor stunning views of the northern coast of the Gulf of Thailand while enjoying cocktails prepared by world-leading mixologists.
Until very recently, however, there was a small scintilla of trouble in paradise which centered upon the WOOBAR's audio system. The resort hotel of which the venue is an important part also contains a luxury villa, but guests there found that their peace was being disturbed a little too frequently by the WOOBAR's DJ sets and background music.
A growing awareness of the issue led to the venue operator calling in Vichai Trading (1983) Co. Ltd. to see if they could propose a new system able to deliver more highly targeted audio. Based in Bangkok, Vichai Trading is one of the region's leading AV specialists, having worked on a wide variety of install projects from conference centers to entertainment venues. To solve the problem, the company turned to the beam steering expertise of Renkus-Heinz.
"The main requirement was to stop the sound escaping down to the guests and affecting their relaxation," said Patiyuth Gludnim from Vichai Trading. "Music is playing in the WOOBAR from 2pm to midnight, so the potential to disturb guests sitting below was obviously quite substantial."
Having recently specified Renkus-Heinz IC Live line array technology at a museum project in the region, Patiyuth and his team quickly realised that the system would prove similarly adept at delivering targeted audio at the WOOBAR. A single discrete column is all that was required to ensure optimum coverage. Intelligently engineered for live sound, IC Live has been part of the Renkus-Heinz Digitally Steerable loudspeaker range since 2005, and is designed to deliver a full range performance while maintaining the beam control that keeps the sound on the audience only – and nowhere else.
"The project was recently completed and the WOOBAR has since been used to celebrate a number of special events as well as entertaining guests on an everyday basis," said  Patiyuth. "The response to the IC Live solution has been extremely positive. It is providing the directive audio that was required to allow the WOOBAR visitors to carry on enjoying the music – and the villa guests to enjoy their peace."