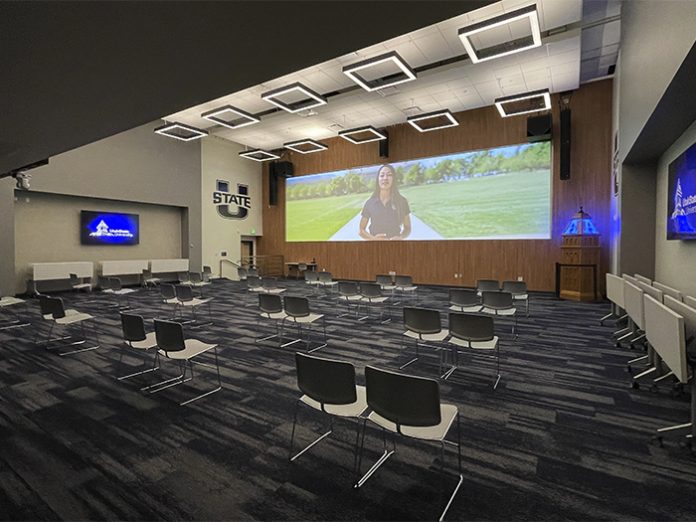 Utah State University looks to provide "big-school opportunities with a small-school feel" at its Logan, Utah campus where a majority of its 28,000 students enroll each year. The university has a diverse offering of degrees across its eight colleges, and it boasts a unique drivability metric: six national parks are within a half day's drive from campus.
The university also impresses with its robust AV offerings. Jim Wellings, the Senior Systems Designer and Programmer for the Academic and Instructional Services Department at USU, works to ensure the school offers high quality audio and video on campus and for remote learners alike. And when it comes to selling students on USU, one of the first things visitors hear is audio from Renkus-Heinz loudspeakers.
"Our Welcome Center, where we first present the campus to prospective students and parents, now features some impressive audio and video," Jim said. "The first thing you see is the display, which is atypical at a 32:9 aspect ratio. It's about 40 feet wide and in full 4K quality. Then you hear the sound, which makes things even more impressive, and that is being provided by the Renkus-Heinz ICLive X system."
Renkus-Heinz's ICLive X series is the culmination of more than a decade of experience in steerable line arrays. The series is a complete system, designed from the ground up, and offers Renkus-Heinz's exclusive Acoustic Source Multiplier (ASM) waveguide. The ASM allows the HF section to be coaxially mounted in front of the LF section. The coaxial driver arrangement delivers a consistent and symmetrical array of both high frequencies and low frequencies along the entire length of the array, allowing the freedom to choose any acoustic center available.
The ICLive X offers all the benefits of Renkus-Heinz steerable technology, allowing for sound to be digitally positioned precisely where you want it: on the audience.
The Utah State Welcome Center uses five ICLive X modules in the room. Two ICLive XL modules are arrayed on both the left and right of the main display, and a single ICLive XL is located in the centre of the room, above the display. Two ICLX118S subwoofers add powerful sub-bass to the system.
"We have it set up in stereo sound with the left and right used for media and the center used for dialogue reinforcement," Jim said. "It's a large square room, which seems like it might not be the best for sound, but with Renkus-Heinz you know it's going to sound excellent. This was no exception. The sound is great."
Jim said that confidence comes from the university's past installations of Renkus-Heinz solutions. An auditorium, performance space, and large classroom at Utah State have all seen Renkus-Heinz integrations over the past few years.
"What I've found is that these offerings bring much more than your traditional loudspeaker," Jim said. "I tend to look for solutions that offer something extra, and I appreciate the work Renkus-Heinz does. We want everyone to feel like their space sounds amazing, be it for a concert or a welcome centre. We achieve that with Renkus-Heinz."