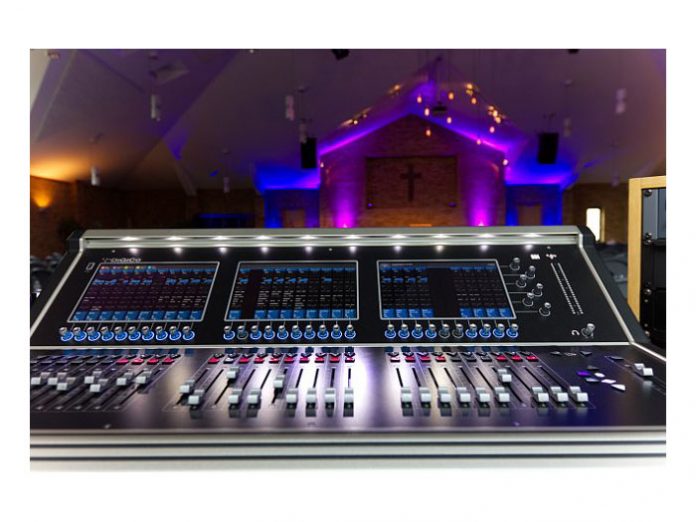 Reigate Baptist Church in Surrey has recently invested in a DiGiCo S31 digital mixing console, purchased through sales and installation company, Stage Electrics, as part of a complete audio upgrade.
"Stage Electrics' Jamie Gosney introduced DiGiCo to us a couple of years ago, and we instantly loved everything about the consoles," said Matt Kefford, the Church's Gathering Pastor, who was also in charge of overseeing the upgrade. "They're great desks, they're easy to use, they have a great sound and you have the option to upgrade software, which keeps them bang up to date."
Matt's first DiGiCo experience was on an SD9, which Jamie had taken to the church to demo.
"It's a really good console, but we're a church, we have to be wise with the money that is made available to us and the SD9 was a little out of our price range," said Matt. "Jamie suggested we look at the S Series consoles and we decided that an S21 would work for us. But then the S31 was launched and it was a no brainer for us to opt for that. The extra screen made complete sense as this is a fixed installation and we are using most channels most weeks, so to have all of them across the three screens is just superb. It makes it really easy to use and you have everything at your fingertips."
Whilst Matt has experience as a sound engineer, the church has various clients using the facilities who do not have the same experience, so ease of use was a prime consideration in his console choice.
"With the S31, the caretaker simply comes in and puts the right settings on the console for whatever client we have in," said Matt. "Then the desk automatically links to our old microphones, so that if a school comes in to do a concert and they drop a mic, it doesn't really matter. Also, they aren't affecting any of our settings, so when we come in on a Sunday, everything is perfect and ready to go, which is phenomenal. I know that's the advantage of a lot of digital desks, but having the layout and the structure of the S31 as it is makes it very easy to use. There have been several times when things haven't gone to plan and I've been able to talk people through it over the phone just by picturing where they are on the screen. The S31 is so intuitive and easy to remember, and I've been able to solve a lot of problems while I've been on the motorway!"
Matt has been happy to train on the S31 and has played key role in setting it up, which has been helpful and has meant that teaching those that are less experienced has been straight forward, something for which he is grateful since the church has found that since it has had the S31, it has never had so many people wanting to serve on the sound team.
"I am not saying it's just because they have seen the desk, but there is definitely something to be said for having decent equipment," smiled Matt, "And, since we've had the new system, more people have wanted to get involved in the worship team. I think when people see things are done well then, they want to be a part of that. In fact, we have one girl here who had never done anything with sound before, but really wanted to be involved. She started watching videos on YouTube, watching the other sound engineers every week and she's been to DiGiCo HQ for a demo. Now she's running the desk on her own, which is wonderful to see!"