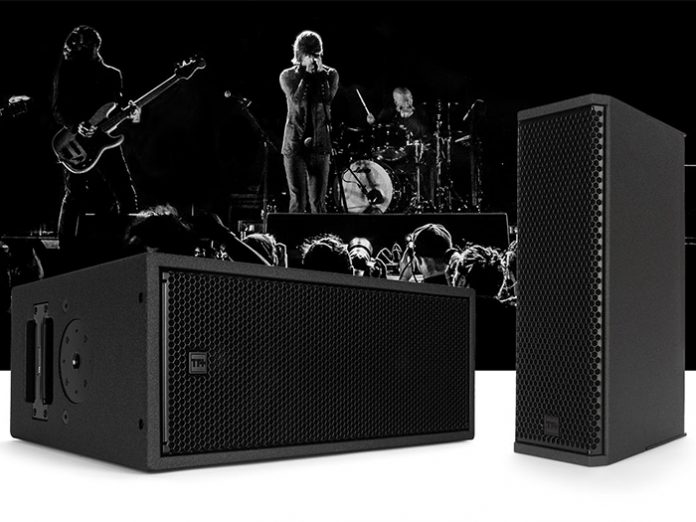 RCF introduces two powered portable speakers with uncompromising fidelity. Flexibility, power, and small footprint make the TT 515-A speaker and TT 808-AS subwoofer ideal for high-powered portable and installed professional applications where size and weight are critical factors. This approach combines the advantages of RCF TT+ technology such as controlled dispersion, outstanding clarity, high-power, multiple rigging accessories, weather protection, and RDNET software connection for real-time management with recallable presets.
TT 515-A is a 127 dB speaker that fits in the palm of your hand and can be used as a main speaker system, or to supplement a larger system, a 3D/immersive sound system, or high-quality installations. The transducer configuration of the TT 515-A pairs two symmetrical custom-loaded 5″ cone drivers to a rotatable CMD waveguide surrounding a titanium 1.75″ high-frequency compression driver, all powered by a two-channel 1,000W RMS Class-D amplifier. The multiple rigging accessories and the unobtrusive form factor of the cabinet are suitable for a wide range of configurations including hanging, pole-, truss-, wall- or ceiling-mounting—in horizontal or vertical orientation—with a rotatable waveguide and logo plate.
TT 808-AS subwoofer features two high-power 8″ woofers with vented frontal loading powered by a two-channel 1,000W RMS Class-D amplifier. The compact cabinet can be used in both horizontal and vertical orientation or paired for cardioid, arc, and other complex subwoofers configurations using RDNet. TT 808-AS also includes balancing brackets for improved vertical stability and a rotatable logo.
The onboard DSP provides flexible control of speakers' parameters and packs a high-level DSP circuit with proprietary Bass Motion Control (BMC) and FiRPHASE processing to achieve coherent distribution of sound without phase distortion and deep, tight bass at any volume. BMC extends the lowest audible frequency without affecting the transducer's stability, limiting over-excursions for greater reliability and superior performance at high volume levels. The advanced FiRPHASE processing optimizes dynamics amplitude and time behavior for a 0° linear phase response.
The waterproof cabinet is built in high-strength baltic birch plywood coated with black, robust, and scratch-resistant polyurea paint. The amplifier is mounted to a solid machined aluminum structure at the back, where heat dissipation is fast and efficient. The enclosure is sturdy and rigid with a strong powder-coated metal grille that protects the face, and an acoustically transparent sound foam backing on the inside of the grille ensures protection from dust and humidity.
Pairing TT 515-A speaker with TT 808-AS subwoofer creates a potent full-range main system with an incredible size-to-power ratio. You can pack a full-range stereo system with two TT 515-A, two TT 808-AS subwoofers, poles, and cables in less than 200-liters of volume. Whether it's used as a compact main system, as fills, or surrounds in a larger system, it's quick to deploy and fast to tune. With TT+ sonic signature, RDNet networked management, weatherproof cabinets, and a wide range of accessories, there is always a place for TT 515-A and TT808-AS.