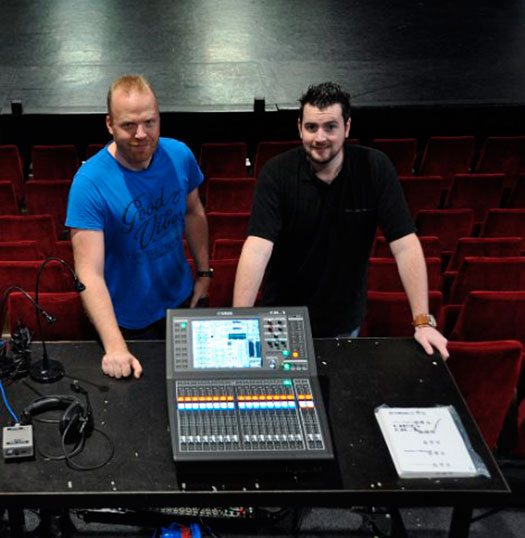 Attracting over 100,000 visitors every year, for three decades De Naald theatre in Naaldwijk has been a cultural hub for the region south-west of The Hague – since 2004 officially the Dutch municipality of Westland. The watchword for every aspect of the theatre's work is 'quality', which is why a QL1 has recently become its fourth Yamaha digital mixing console.
De Naald is truly at the heart of the community. As well as welcoming national and international performers and showing a wide range of films, the theatre showcases many performances by local groups and new talent. Around 10,000 primary school pupils visit annually, while secondary school students do work experience and stage performances.
The theatre's concept of 'quality' includes the shows, the audience experience/welcome, its service to the community and, of course, technical production. Over the years Yamaha DM1000, M7CL and 01V digital mixing consoles have been installed by De Naald's installation partner Audio Electronics Mattijsen – now joined by the QL1.
"I have been working with Yamaha digital consoles for many years," said De Naald Technical Manager Rob Kool. "We looked at a number of consoles and the compact QL1 fulfilled all of our needs; the effects and ease of use impressed everybody. And the inbuilt Dan Dugan automatic mixer that was the icing on the cake. Never before has a compact console been so complete! So choosing Yamaha for our next investment was a logical decision."
As with earlier Yamaha consoles, the QL1 had to work seamlessly with the theatre's Riedel RockNet network. This is achieved by the simple addition of an RN.341.MY interface card to each – demonstrating the ease with which Yamaha digital mixers can be integrated into existing systems. The QL1, M7CL, 01V and DM1000 all use the RockNet gain compensation feature, which allows each console to have it's own gain structure without influence from any other console.
"People come to us for the warm, personal atmosphere, where we do everything we can to give them an unforgettable experience. We are driven by the ambition to be the best cabaret theatre in the Netherlands," concluded the theatre's Director, Nico Baars.