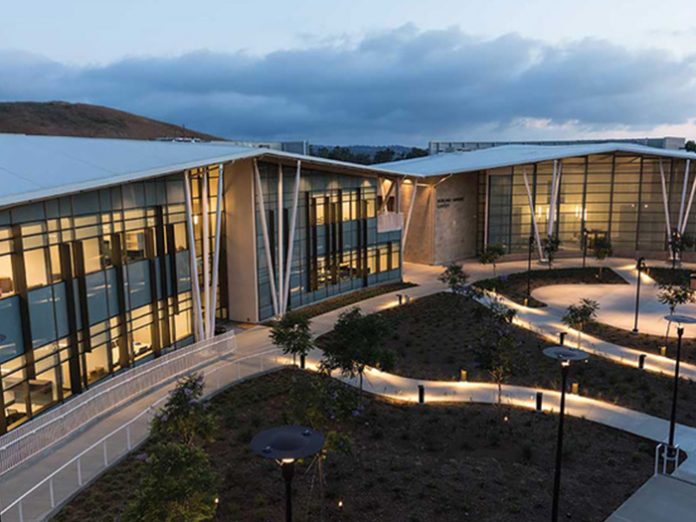 Orange County-based Concordia University Irvine needed a powerful and flexible P.A. system that could cover everything from lectures to live music to worship services. It had to be loud and clear, but also portable enough to move and share among multiple auditoriums and chapels on campus. Their chief engineer Mario Gonzalez — a lifelong audio professional— immediately knew QSC was the solution. He assembled a KLA active line array system consisting of six KLA12 array loudspeakers, two KS118 subwoofers, and six K12.2 plus four K10.2 powered loudspeakers, all integrated with a TouchMix-30 Pro digital mixer.
"I've used QSC for most of my audio career," begins the affable Gonzalez. "When I worked at San Diego State University, we used the original K10 and K12 loudspeakers on ten to fifteen shows every semester. They always sounded great and never went down. In this case, we needed to go bigger, as one of the rooms where we plan to use the system is a larger sized amphitheater. The first thing that attracted me to the KLA12s was their coverage. Next, because we have to move the system around and we're stacking them instead of flying them, the KLAs can easily interlock without any extra hardware. The sweet spot turned out to be three boxes plus a subwoofer on each side."
Scalability was also important. Depending on the application, the system could be reduced to two boxes per side or run without subwoofers, and the K.2 Series loudspeakers could even serve as the main P.A. in smaller rooms.
Given the plethora of users' hands on the controls, the mixing console had to be just as capable of being flexible enough to be operated by users with varying skill sets performing multiple tasks.
"Three important things convinced us to go with the TouchMix-30 Pro," says Gonzalez. "First, it is easy to use, which is important because students will be working a lot of events. I had only seen a TouchMix twice before and in ten minutes I was up and running. There's a 'Simple' mode and if someone gets stuck, the user guide comes right up onscreen. Second, the scene memories really meet our needs. We can store setups for different types of presentations, bands, and so forth, but also for the different rooms where we'll use the KLA system. Since the TouchMix memory includes room tuning, anti-feedback settings, EQ, and dynamics, we can optimize a room once and be 90 percent ready to go the next time we take the system into that room. That's a huge time-saver."
Third was the TouchMix's extensive library of channel presets, which optimize input settings not merely for popular categories of instruments and vocals, but for specific instruments with microphones and pickups as well. "That's really key if a student or volunteer is setting up a show," notes Gonzalez. "They can just touch a preset for, say, a female vocal singing into an SM58, or an acoustic guitar with a certain kind of pickup, and then just worry about levels."
Gonzalez has always found QSC to provide unsurpassed audio quality for the price. "I've worked in so many houses that had QSC for the monitor system and/or the front-of-house," he recalled. "I've worked with all the super high-end expensive systems —you name it. It's absolutely amazing to me that at this size class of system, QSC performs at that level but costs so much less. We're a small, private, Christian university and this purchase was funded by donors. With QSC I can be confident we're using their money wisely."
Just as impressive to Gonzales was that QSC's affordability came with no compromises in build quality: "With the new system having to be moved around campus, not to mention student users, you know something might get tipped over, or spilled on, etc. In my 20 years of using QSC, I've never had of those mishaps result in the QSC gear not making it through a show. The QSC gear is so durable."
In addition to all the virtues of the QSC gear itself, Gonzalez adds that it was QSC's attention to detail and customer support that clinched the deal and beat out other bidders. "Plenty of retailers or distributors would have spec'd out a quote after a 15-minute phone call." He says, "QSC looked over the campus and studied the rooms where we might use the system. They really went above and beyond to make sure the fit was right. Then, there's the free online training QSC offers to their end users, which will be invaluable as student workers learn to use the gear. With QSC, I feel like we're not just getting some loudspeakers, we're getting a long-term relationship, and that's huge."