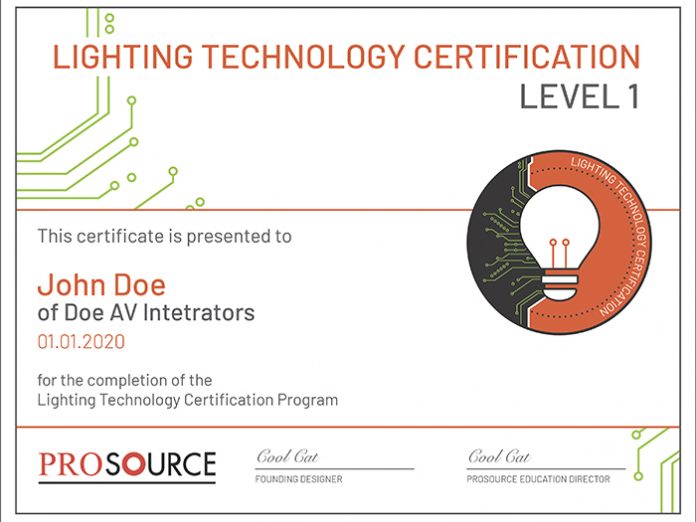 ProSource, the largest audio, video, and integration buying group in the United States, has announced the launch of the exclusive ProSource Lighting Technology Certification program. Lighting is a $44 billion annual category in the U.S. alone, and lighting fixtures are fundamentally changing the worlds of integration and controls. ProSource has developed an industry-first plan to accelerate growth in the category for its members. The customized content by David Warfel, and Mark Langston, both of Light Can Help You, for Level 1 Certification is available exclusively in ProSource University, a proprietary LMS platform introduced earlier this year. The program was developed in collaboration with the ProSource Lighting Committee and is supported by ProSource vendor partners.
Lighting Technology Certification Modules
M0: ProSource Lighting Technology Certification
M1: Lighteracy 101 – Client Foundations
M2: Lighteracy 201 – Integrator Foundations
M3: Happier & Healthier – Light & Wellness
M4: Designer's Brushes – Lighting Fixtures
M5: Designer's Canvas – Lighting Plans
M6: In the Zone – Controls
M7: The Industrial Complex
M8: Purchasing & Restocking
Level 2 curriculum is a live, hands-on Lighting Lab experience that will be hosted at a permanent location to be announced later this year. To kick off the program, ProSource is hosting a Lighting Technology Certification virtual launch event to guide members on how to get started with a 30-minute webinar.
"ProSource and Light Can Help You teamed up to create and deliver an incredible educational opportunity that is 100% focused on the CI channel," said David Warfel, Chief Evangelist of Light at Light Can Help You. "We looked at all the great education opportunities out there and could not find any training that addressed how to go to market as an integrator selling lighting."
Sherry Dantonio, ProSource Director of Membership and Education, commented, "I am very excited for the launch of the ProSource LTC program, exclusively available through ProSource University, which has been made possible with the generous support of American Lighting, Coastal Source, Colorbeam, DMF Lighting, Savant, Vantage, and WAC Lighting. ProSource U access is free for all members now through September 30."