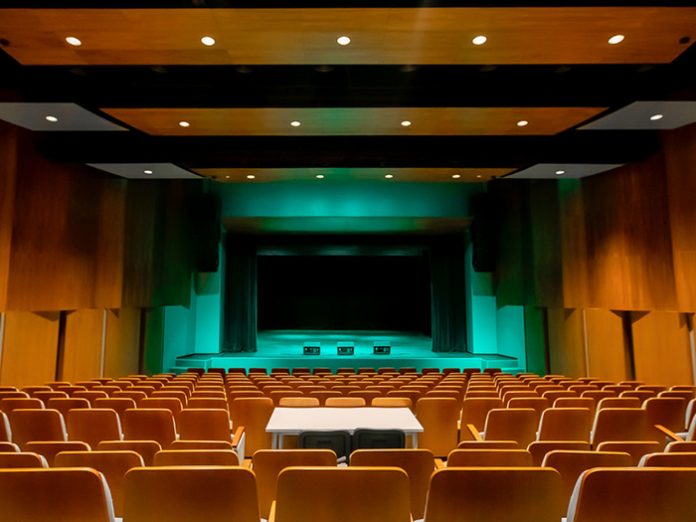 The hall of Molėtai Culture Center is a multifunctional hall with a capacity of 330 spectators. The cultural center is located in a small town called Molėtai, situated around 50 km away from the Lithuanian capital Vilnius. The Cultural Center satisfies the needs of people of various social and age groups as far as art is concerned, ensures participation in creative activities and the circulation of Molėtai region artistic culture in the country and abroad.
"The stage of the hall where PROLIGHTS lighting devices are installed is 10 meters wide 11 meters deep and 5 meters high" said Mindaugas Indrašius, CTO for Sonus Exsertus, PROLIGHTS distributor for Lithuania. "PROLIGHTS products were selected based on the needs of the cultural center and the genre of events. The activities of the cultural center are diverse so there was a need for lighting devices that were small, reliable and versatile. On a relatively small stage it was not possible to have many specialized narrow-purpose lighting devices therefore the versatile, strong light output and well-functioning PROLIGHTS lighting fixtures fully meet the lighting needs of this small hall.
The PROLIGHTS products installed were Luma 700, Diamond 19, Polar 1000 and Air 6Pix. The selected fixtures act as the main lighting devices for various artistic productions of all genres:
– LUMA700 – for theatrical events thanks to an extremely wide beam angle range which is from 6.8° to 47.5°. Precisely blended colours and rich extracted colours are especially appreciated by theatrical lighting artists. The ability of this device to change the color temperature in the range of 2700-6000K is very important for theatrical lighting. These devices are also used in concerts of various genres as effective lighting due to the extremely strong light output and fast beam movement.
– DIAMOND19 – devices are used in all lighting productions as floodlights. High light output and high-quality colours allow for suitable colouring of certain spaces and allows this device to be used for both theatrical and effective lighting.
– The POLAR1000 has been praised by users for its incredibly strong flash effect which is difficult to achieve with other brands' devices of this type.
– The AIR6PIX is used as a special light-effect device that complements the concerts taking place in the hall with unique images of light, colour and movement that cannot be produced by any other devices.
The experience of working with PROLIGHTS equipment is beyond positive. The fixtures are high quality, we did not encounter any problems during the installation. All products were installed easily and are working smoothly. The precise instructions from the manufacturer's side allowed us to quickly make the necessary settings and perform programming work".