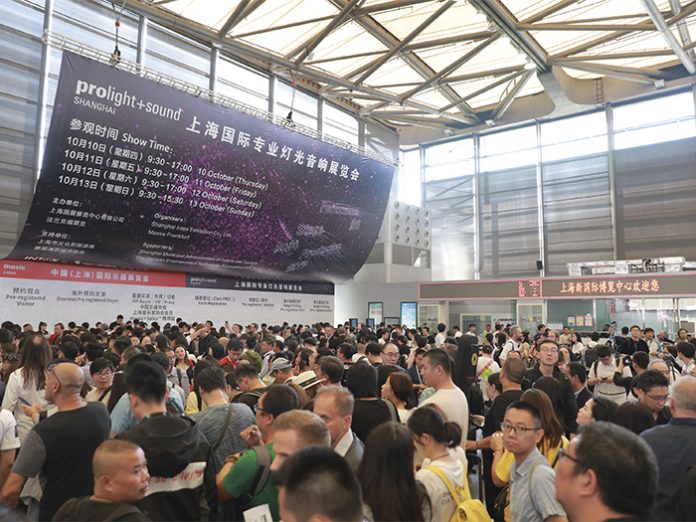 To allow industry resources to be focused more precisely, and thereby better assist the recovery of the AV entertainment industry, the 2020 edition of Prolight + Sound Shanghai (PLSS), originally scheduled to take place during the final week of October, has been deferred. The move allows industry players to focus their marketing budget and manpower exclusively towards the larger scale Prolight + Sound Guangzhou (PLSG) event, particularly those who had decided to exhibit at or visit both events. Participants will thereby benefit from opportunities to network with a larger pool of potential business partners in Guangzhou. The two upcoming editions of PLSG will take place in August 2020 and May 2021.
A sister event of the Shanghai fair, Prolight + Sound Guangzhou was previously postponed from February to August 2020 in the wake of the COVID-19 pandemic. This postponement created a packed calendar for the AV entertainment industry in China, with three Prolight + Sound branded events scheduled to take place within the space of just ten months.
Ms Judy Cheung, Deputy General Manager, Messe Frankfurt (HK) Ltd, explained: "With the AV entertainment industry still struggling to recover from the impact of COVID-19, channel players require the strongest possible platforms to spur new business. Balancing the considerations of timing and location, it makes sense to pool resources towards two larger scale events: the 2020 and 2021 editions in Guangzhou – China's core manufacturing base for audio and lighting products. This will not only deliver greater business value for the industry, but it will also allow exhibitors to channel their marketing budgets more effectively."
In place of the deferred Shanghai fair, from 28 – 31 October an online conference will take place to provide the industry with extra stimulus as well as support those who cannot travel to Guangzhou. With the goal of facilitating business matching and learning, the conference will feature a programme of product promotions, educational seminars, and online technological demonstrations – streamed via social media channels as well as the official fair website.
Dedicated platforms for the AV entertainment industry in Asia
With a focus on recording and production, as well as the entire supply chain of professional audio, lighting, entertainment and event technology, Prolight + Sound Shanghai is a landmark event for the entertainment industry in Asia. Fostering technological innovation and collaboration, its previous edition attracted over 30,000 professional trade visitors as well as more than 600 exhibiting brands from 22 countries and regions.
Larger in scale, its sister fair in Guangzhou is the biggest event of its kind in China with close proximity to China's manufacturing base. It is therefore the ideal platform to kick start the AV entertainment industry's recovery. The upcoming editions in August 2020 and May 2021 will cater more effectively to the marketing schedules of exhibitors as well as the sourcing calendars of trade buyers, who will be able to conduct all of their business activities in one trip.
Giving professional trade visitors a more extensive array of sourcing options, the fair has long been a favoured destination among contractors and system integrators, thanks to its close proximity to renowned AV manufacturers in Guangdong province.
The upcoming edition, which takes place from 21 – 24 August, will place a stronger emphasis on online streaming, webcasting and conferencing systems – reflecting an uptick in demand following the COVID-19 pandemic.
Prolight + Sound Shanghai is an annual international exhibition for the music, event, media technology and entertainment industry in Asia. The show is organised by Messe Frankfurt (HK) Ltd and the Shanghai Intex Exhibition Co Ltd (Intex), and is a brand event of the Prolight + Sound exhibition in Frankfurt, Germany.