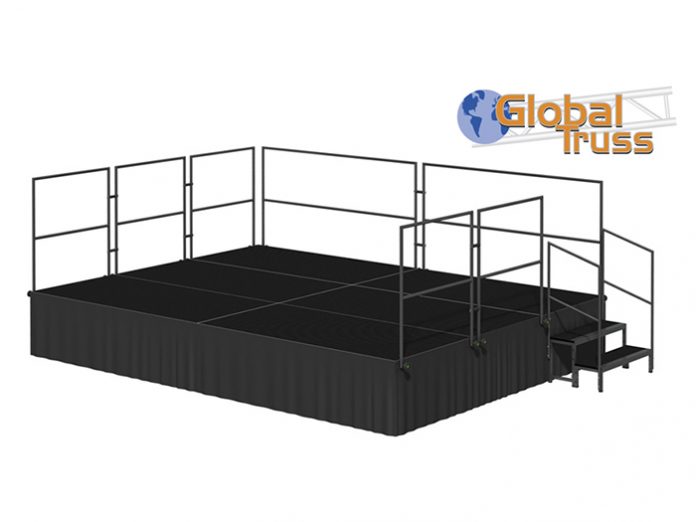 The Prolight Concepts Group announce its new range of GT Stage Decking from Global Truss. Suitable for both indoor and outdoor applications this comprehensive range is perfect for fashion shows, conferences and hotels.
The range boasts professional features giving full flexibility for both easy setup and storage.
Compatibility – the design of the GT Stage Deck makes it compatible with many other manufacturers.
Optimised shape – external corners are compatible with products by Layher and Nivtec without adaptors.
Reduced warehouse costs – with the GT Stage Deck
Different finish options – we now offer a light wood finish along with the standard black hexaboard finish.
More size options – we have added 8ft x 4ft and 4ft x 4ft decks to the range which includes 2 x 1-metre and 1 x 1-m.
The range is constructed of specially designed lightweight, waterproof, aluminium sections in which platforms can be joined together to create the desired arrangement. GT Stage Deck platforms feature a maximum load of 750kg/m² making them strong and durable.
The platforms can be supported by our range of 60mm square, 50mm round or 60mm height adjustable telescopic legs. Rubber feet and cross beams ensure stability whilst an anti-slip layer and other accessories including handrails and stair sets provide easy access and safety when using the system.
"This platform range is fully configurable and has a host of features that ensure stability, easy access and safety making them ideal for schools, universities, hotels, resorts and conference centres," said Andrew Jeffrey, Managing Director of The Prolight Concepts Group. "The durable waterproof plywood construction with anti-slip layer ensures a long product life for years of use."