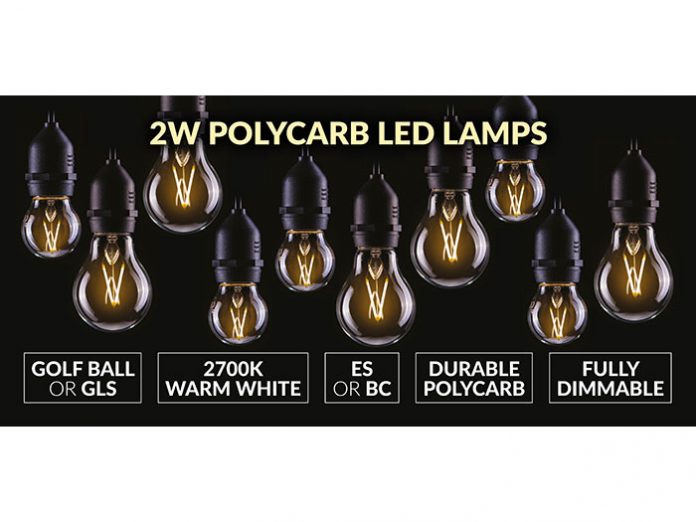 Prolight Concept's new range of 2W polycarbonate LED filament lamps are durable, warm white (2,700K) LED lamps available in golf ball and GLS versions with a choice of either Edison Screw or Bayonet Cap bases. They are fully dimmable, making them suitable for virtually all applications from small to large indoor and outdoor events, through to hotels, bars and restaurants, along with various other decorative applications including home use.
The innovative design of the exposed LED Filaments replicates the appearance of an incandescent filament bulb offering 360º light distribution, with the added benefit of being shatterproof. Its polycarbonate lens virtually eliminates the chance of breakage during transport, installation and storage, making it ideal for many applications indoors and outdoors (IP45 rated in a suitable IP rated fitting), including festoon lighting, christmas displays, accent lighting and more.
With the popularity of its festoon, and demand for the supply of lamps for use with them, Prolight decided to add a vast array of products from Prolite Lamps. It now stocks a variety of coloured and white golf ball style lamps, as well as GLS versions, fun looking funky filament and starry ranges, decorative globe, smoked, candle and crackle styled ones. All of which can be found on its website.