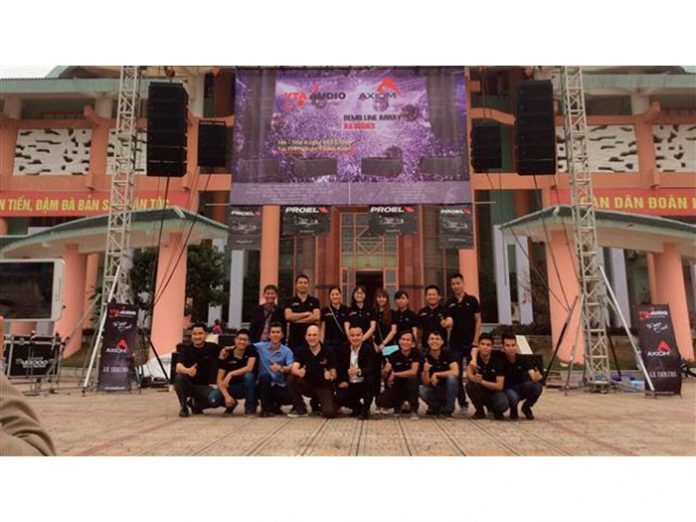 Proel's newly appointed distributor Viet Thai An Trading Co. Ltd. organised a product seminar and demonstration of Axiom professional loudspeaker products in the Vietnamese capital Hanoi in March. Technical Sales Support Engineer Daniele Massaccesi, in a format that has proved successful in opening new markets to the Axiom brand, introduced the company's 25 year history in manufacturing, and the solutions offered by Axiom loudspeaker systems.
The first day was largely devoted to training of the internal sales and technical support staff, introducing them to an overview of the products in the Axiom range and their applications. The second day's proceedings provided a more detailed presentation of the entire Axiom product catalogue – medium and small scale line arrays, point source loudspeakers, subwoofers, and supporting electronics – and how they may be best used to create solutions for many everyday problems encountered in mobile and permanently installed sound reinforcement situations. In particular, two relevant topics were discussed: subwoofer array beam forming, and examples of how to use front fill speakers to augment a main PA system.
On the third day an outdoor demo was staged at the Cultural House of Thanh Xuan District, which has a capacity of 1,500 people, with high quality pre-recorded music files and a live band. There were two main PA setups for the live demo – an Axiom powered line array system consisting of six AX2010A dual 10-inch elements and two SW218A dual 18-inch subwoofers per side, and a compact line array system consisting of two AX2065 passive elements and two AX2065 powered elements plus two SW125A dual 15-inch powered subwoofers per side.
According to Massaccesi, the attendees really appreciated the unexpected projection of the AX2010 array in the far field and the considerable energy delivered by the subwoofers, while they were impressed by the mid-range quality and clean, undistorted sound from the smaller AX2065 system.
Over the two days of the seminar, more than 40 people attended, the majority from rental and event companies, and three well-known sound engineers from Hanoi were also present. More than 400 people attended the demonstration from all over Vietnam, and they were all very surprised and excited about the sound quality of the Axiom line array systems.
A spokesperson at the event, Mr Trung had this to say: "For us this event has been a big success. These kinds of seminars and product demonstrations are very important to affirm ourselves in the Vietnamese pro audio market, and we are very grateful to Proel for the resources they have provided us. Although we are a young company, incorporated in 2014, we are growing fast with more than 15 staff spread across sales, purchasing, marketing and PR, after sales service, and warehousing."
Mr Trung stated that many more people came to the demo than expected, and that they are confident that exposure to the Axiom systems and products will translate into results. Mr Trung and his team have signed seven contracts already and expect many more in the next few months, and have received excellent feedback from customers who have installed and used Axiom loudspeakers in professional applications.
Specifically, many have been impressed with the sound quality of the speaker systems, and with the excellent presentations and product information that will be used to convince customers of the strengths of the Axiom brand.
Proel's Export Area Manager, Gabriella Di Giminiani commented: "I am very happy to have had the opportunity to meet this company. Viet Thai An Trading Co. is the perfect partner for us. They are all young people, who are already very experienced sound engineers – hard workers, very capable, dynamic, and focused. They immediately understood the value of our products and have been explaining it successfully to their customers. With them, I am sure that Axiom will have the right appreciation and positioning in the Vietnamese market. This is the best synergy we could hope for, and indeed the results in terms of sales are already so incredibly positive."
https://www.axiomproaudio.com