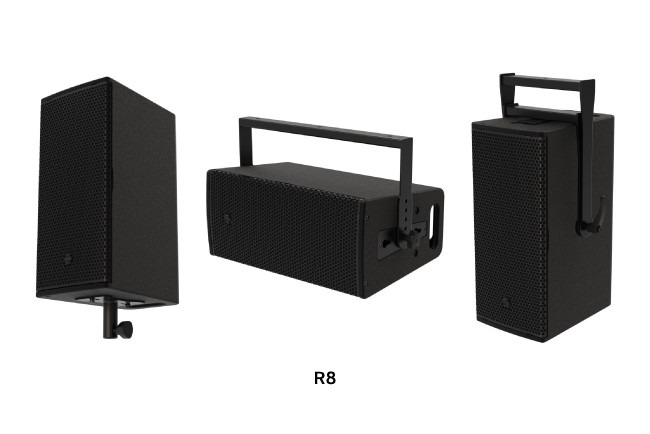 Lancashire-based event management specialist Glasgows has been a leading UK supplier for more than 35 years, working with a wide range of organisations to deliver every conceivable type of live, hybrid or fully virtual event.
Its clients include UK Government departments, major charities and industries, the NHS, Welsh Government and the World Health Organisation.
In 2021, Glasgows provided production for Green Zone at the UN's Climate Change Conference, COP26, a measure of the esteem in which the company is held.
 
Until recently, the company had hired in audio systems to cover the needs of specific events, but a change in the circumstance of a regular supplier prompted Glasgows to explore the possibility of investing in own equipment.
As champions of sustainability the company seeks, wherever possible, to reduce its impact on the environment, so as well as addressing an immediate logistical challenge, the company saw an opportunity to invest in a long-term, future-proof solution.
Having decided that an outright purchase was the way forward, they consulted with Bradford-based supplier Pro Audio Systems (PAS) to discuss solutions.
 
After assessing a number of options, Glasgows concluded that an EM Acoustics system offered exceptional performance at a very competitive price point, and would perfectly address the size and scale of its typical audio requirement.
Added to this was the fact that as a UK manufacturer using natural materials, and adhering to a green agenda, EM Acoustics met Glasgows' rigorous criteria for sustainability. 
Gareth Hopwood, Production Manager at Glasgows commented: "Once we'd taken the decision to invest in our own audio system, we were keen to find something that was the best fit for the wide range of events we supply.
"Given the variety of applications to be covered, we needed something powerful, flexible, and modular that could cater for everything from live bands to corporate presentations and background music reinforcement.
"As a touring sound engineer, I'd had experience of EM Acoustics systems before and always been impressed with their capacity to produce excellent sound with the minimum of fuss.
"It's fair to say that we're delighted with the EM Acoustics products – the audio quality is superb, the units are robust, and our investment constitutes excellent value for money."
 
After demonstrations organised by EM Acoustics and PAS, Glasgows chose loudspeakers from EM Acoustics Reference Series.
Suited to any performance environment requiring ultra-high quality sound reinforcement in a versatile, low-profile package, the Series is equally at home on a theatre proscenium, in a live music venue or corporate setting.
PAS supplied four EM Acoustics R8 and four R10 passive full-range loudspeakers, with both models featuring interchangeable wide (110° by 50°) and narrow (80° by 50°) rotatable waveguides for shorter and longer throw applications respectively.
Eight EM Acoustics EMS61 compact two-way passive reflex-loaded loudspeakers were also added to the inventory to be used as part of a full range system or as a standalone for smaller applications. 
 
EM Acoustics and PAS recommended either the S-15 or S-18 models as suitable subwoofers to complement the system and arranged for Glasgows to run trials of both in live situations.
The powerful S-18 18-inch compact reflex subwoofer got the vote with 4 units added to the system.
Three EM Acoustics DQ20D Dante-enabled amplifiers power the system and PAS supplied flying cradles, pole mount adapters and rigging kits for all the loudspeakers, enabling them to be used as flexibly as possible.
 
One of the system's first outings for Glasgows was covering a corporate event at the five-star Celtic Manor resort in South Wales. Gareth commented:
 
"The system was a revelation. It was up and sounding great straight out of the gate. We'd modelled the room using EASE Focus but the natural sound from the word go was exceptional with hardly any tweaking required.
"Another aspect of the EM Acoustics kit that's worth mentioning is that it looks excellent. Aesthetics play a key role in so many of the events we service – it's very important that loudspeakers are well-designed from a visual point of view so that the technical elements in a production are as discreet as possible. The system definitely ticks the boxes on that score."
 
Working with PAS on the process of determining the best way forward was invaluable according to Gareth: 
 
"Consulting with Chris Beardwell and the guys at Pro Audio Systems was such a useful exercise.
"They were patient, nothing was too much trouble and they provided all the assistance we needed to make an informed choice that was right for our business – once we'd opted for EM Acoustics, they too were very supportive, cooperating with PAS on the demonstrations and trials."
 
Peter Butler, Business Development Director at PAS added: "Our portfolio includes a number of industry-leading audio brands. First and foremost, we are driven by the principle of working very closely with our customers to identify exactly what products or systems are most appropriate for their requirements.
"For the nature and range of Glasgows' events, we felt that EM Acoustics offered the perfect combination of quality and flexibility to deliver long-term value on their investment."