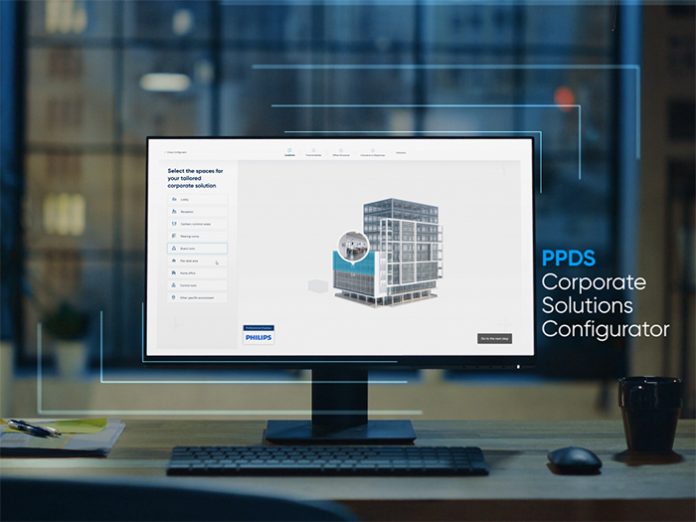 PPDS, the exclusive global provider of Philips digital signage, LED and pro TV products, software, and innovations, has introduced a brand new, highly innovative, and empowering online configuration tool, enabling end-customers in North America to discover and tailor their perfect total AV solution, with just a few clicks.
Announced at InfoComm 21 in Orlando, FL, (booth 3421) and live from today for the first time in North America, the PPDS Corporate Configurator is a true game-changer for the AV channel and their customers – with the power to reduce days, weeks, or even months of project research and consultations, into potentially just a few hours, or even minutes, saving time and money, easing the AV selection process for integrators together with their customers.
The highly intuitive new configuration tool takes end customers on a journey of discovery, guiding them through a series of seamless click-and-continue options to find a solution that meets their exact visual needs and requirements for their corporate environment – whether for a single office, a high-rise building, or multiple national or international locations.
Far from simply selecting hardware based on the vertical – a solution adopted by many – the PPDS Corporate Configurator dives deeper than ever into a business's needs, wants, and ambitions. It includes solutions for improving employee proactivity, enhancing collaboration during meetings, plus multi-site support (including at home).
PPDS, the exclusive global provider of Philips professional displays, offers solutions that seamlessly meet the needs right the way through the business, from the lobby to reception (including wayfinding and signing-in), from common areas to meetings rooms (including room booking), to control rooms and flex desks, as well as cafeterias (menus/info), home offices and more.
Whether you are CEO or an IT manager, the new PPDS Corporate Configurator offers all the tools and information needed to create the perfect custom AV solution to meet both needs and budget.
Bruce Wyrwitzke, Director of Digital Signage at PPDS, commented: "At PPDS we're committed to bringing truly innovative, premium quality products and solutions to the market, but equally, our focus is on making it easier for our partners to do business, both with us and their customers."
He continued: "The Corporate Configurator has been a huge success in EMEA and we're excited to now extend that offering to here in North America. In doing so, we're helping to support our partners in a way that has never been more seamless, providing a powerful new tool that allows their customers to take a level of control never experienced before, to create an innovative solution that meets their exact needs and requirements. The process couldn't be more simple, with an intuitive step-by-step process, offering a total solutions package that covers the whole visual demand of a corporate environment in just a few clicks. We've listened to the market, and we've responded."
As part of a new strategy for 2021 – which culminated in the company rebrand and a new 'Total Solutions' strategy – PPDS has evolved to become a one-stop-shop for the AV channel, providing a full suite of AV solutions, including Philips Pro TVs, interactive displays, digital signage and LED, as well as an ever-growing range of bespoke software and hardware accessories with its network of partners.
Tim de Ruiter, International Business Manager, PPDS added: "At PPDS we want to bring options for complete solutions for our installers to select from and for end customers to benefit from, wherever they are in the world. Since the beginning, our network of incredible partners have worked tirelessly to not only match the visions of the market but more often than not, to create them, too. So, as well as signposting the most relevant displays for any given situation and need, we have also researched and can recommend the software solutions to match."