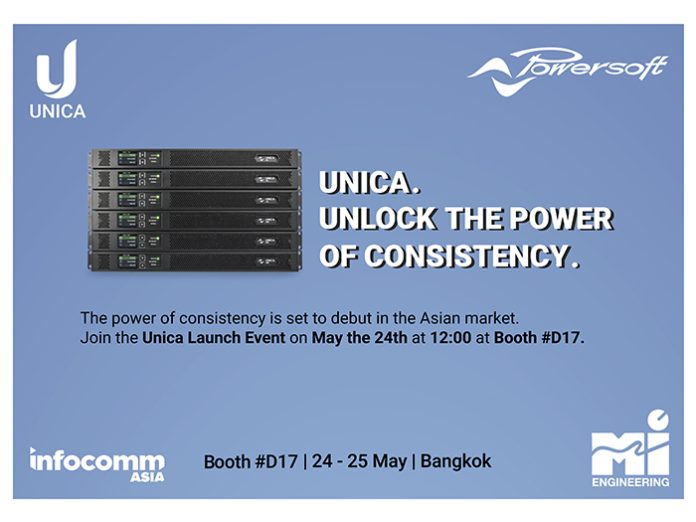 Powersoft is set to launch its third-generation fixed-install amplifier platform, UNICA. The official unveiling will take place at InfoComm Asia 2023, 24-25 May 2023, with a press conference that takes place on the first day of the event.
Showcasing the most advanced amplifier platform in Powersoft's history, the Italian audio specialist is excited to present UNICA to attendees, providing them with an opportunity to find out about UNICA's extensive features and functions.
UNICA's launch will take centre stage at Powersoft's Thai distributor, MI Engineering's, booth (D17) at 12pm on the first day of the show (24th May). Following the press conference, visitors will have the unique opportunity to engage with Powersoft specialists and witness demonstrations of UNICA amplifiers while having their questions answered first-hand.
Powersoft successfully unveiled the new generation of power amplifiers to the European market at ISE in January. "We want to introduce UNICA to the APAC market in a manner that mirrors our successful launch in the European market," explains Arthur Soh, Powersoft's APAC sales manager consultant, "with a press conference that will captivate trade show attendees."
UNICA, a single new-generation amplifier platform, is versatile to cover a wide range of applications, while delivering the highest level of audio quality, reliability, and efficiency. The amplifier platform leverages next-generation cloud-based technology to provide a safe, consistent user experience for any size of install.
Powersoft will showcase both four-channel and eight-channel versions of UNICA, a future proof amplifier platform that offers simple integration and configuration and low maintenance costs in one easily upgradable package.
Krittin Thanabupakhon, M.I Engineering's marketing manager comments on the UNICA launch to the APAC market: "We are thrilled to launch UNICA for the first time in Thailand, presenting an even more perfect solution to cater to our end users' needs with the cutting-edge UNICA and UNIVERSO technology."
"We are beyond excited to debut UNICA in APAC, a market that has a growing demand for class D amplifiers. With its cloud-based technology, cost-effectiveness, and versatility, UNICA is the perfect solution for integrators across the Asia-Pacific region," Soh concludes.
Visit Powersoft at MI Engineering's stand (D17).
Press conference at 12pm on 24th May at stand D17.