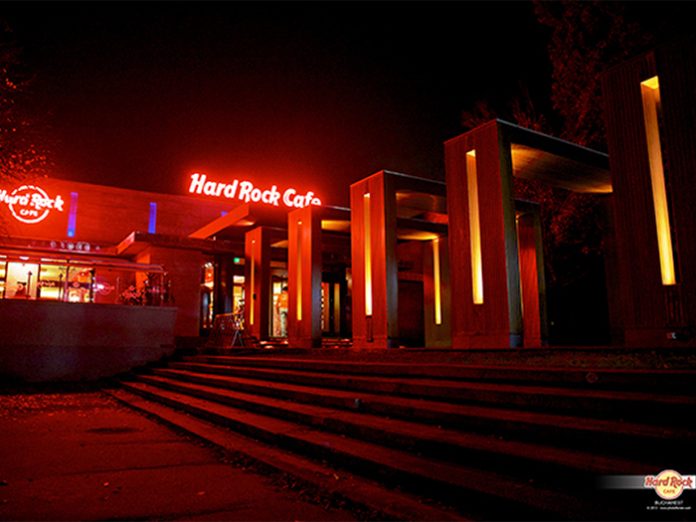 In need of an audio infrastructure upgrade, Bucharest's Hard Rock Café, the iconic food haven for rock 'n' Roll fans everywhere, turned to Romanian integrator, Paradigma Teknik for a system with power, clarity and above all reliability, featuring Powersoft's latest fixed install Quattrocanali and Ottocanali amplifier platforms.
Paradigma's sales manager, Laura Angelescu, recommended a system of Martin Audio loudspeakers, and turned to Powersoft's Romanian distributor AudioVision Store, for the amplification aspect of the installation.
AudioVision's Marius Craiu, explains, "We have a very strong relationship with Paradigma Technik. We have worked with them for many years and Powersoft aligns very well with Martin Audio for many reasons, but primarily because of the powerful DSP: a kind of Formula 1 for series cars."
Understanding the end user's needs from the installation, AudioVision specified Powersoft's DSP+D versions of Ottocanali and Quattrocanali amplifier platforms to form the powerful and uncomplicated backbone for the restaurant's multi-zoned audio system. Powersoft's green energy product solution, packed with innovative signal processing and backed up for redundancy, ticked every box. The installation is managed by Powersoft's Armonía Pro Audio Suite, which offers complete and user-friendly web-based control of the system.
StackEvery Hard Rock Café center around its all-important rock stage, and here Angelescu specified eight Martin Audio W8WDQs supported by four WS218X subs, which Marius met respectively with the power of two 8-channel Ottocanali 12K4 DSP+D and a single Powersoft X4 DSP+D amplifiers.
Powersoft's versatile and powerful X4 amplifier platform provides trusted high-grade sound accuracy and high-density power to the sub-bass units. In common with the Ottocanali series DSP+D versions, the X4 channels two redundant Dante streams and features a fully-protected circuit design. The Ottocanali 12K4 power amplifier provides up to a total of 12,000 W at 4? with maximum reliability and efficiency at reduced power consumption thanks to Powersoft's Power Factor Correction (PFC) and patented SRM (Smart Rails Management) technology.
The seated dining zones of the restaurant are served by 23 channels from three Ottocanali 4K4 DSP+D amplifiers, driving 23 Martin Audio CDD8 ultra-compact two-way speakers, whilst the front fill is supplied by two high-output CDD12 speakers driven by a single Quattrocanali 4804 DSP+D amplifier platform. Eight MA W8WDQ loudspeaker systems are used for main tops, side fill and delays and bi-amplified by two Powersoft Ottocanali 12K4 DSP+D, while the LF uses four WS218X powered an X4 DSP+ D amplifier.
The Quattrocanali series is Powersoft's latest dedicated installation range which features the lowest thermal dissipation in the industry, thus reducing the need for external cooling devices. It also employs the patented SRM (Smart Rails Management) technology for maximum system efficiency. Again, as with the Ottocanali series, Quattrocanali is designed to operate with Lo-Z (from 2 ?) and 70V/100V distributed lines or any mix of the two.
Simple operator control of the entire system was one of the prime requirements of the installation. AudioVision specified Powersoft's Armonía Pro Audio Suite software, which offers full and intuitive graphical control of Powersoft amplifiers via the web app, making the installed amplifier platforms remotely accessible and operable.
Armonía provides password-protected levels of system control. At the 'advanced user' level the system can be set up and commissioned with full access to all settings on the amplifiers. The operator view is customizable by the audio engineer to create a safe view to manage specified zones and volume control.
StackIn the case of Bucharest's Hard Rock Café, Armonía is used in Operator View by the in-house sound engineer. Marius expands, "The sound engineer can control the gains of some of the advanced groups, like subs, delays, main, front fill, side fill, etc. This helps him achieve the desired power for low and hi frequencies and also for different areas."
The initial system set up via Armonía was created by project manager Daniel Marius Albu and technician Catalin Serban from Paradigma Teknik, with expert support from AudioVision's Marius Craiu and Powersoft's system engineering manager Luca Gianni. Once the system was fully embedded with minor modifications made in weekly tweaks, Craiu transformed the system control into the user-friendly Operator View interface.
The new audio system was an instant success with the end-user. The reaction from Hard Rock Café's marketing manager, Bianca Dragota, was, "What were we using before? Now we have music!!".