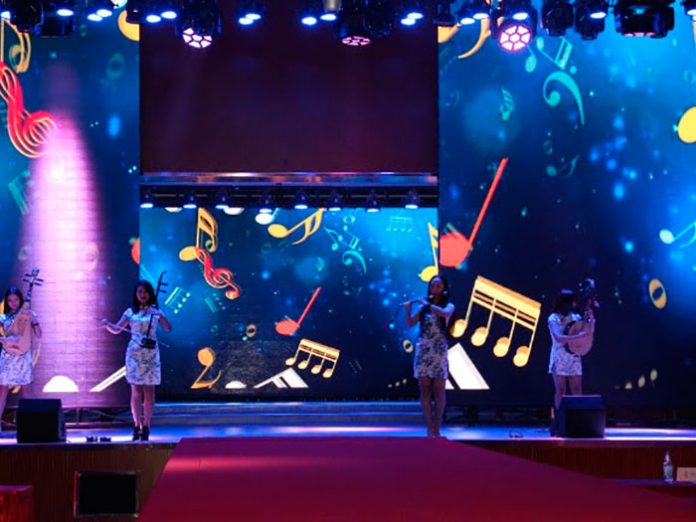 Powersoft amplifiers were recently installed at Wanhe Grand Theatre to power the EAW KF720 PA house system. Situated in the Wanhe Shopping Mall of Xi'an, Shaanxi Province, the theatre distinguishes itself as the first of its kind to be housed within a big shopping mall in China. The 1500 sq metre space accommodates approximately 500 people with advanced performance facilities that satisfy a wide range of function needs including concerts, model shows, academic reports, new products releases, art performances, and conferences.
The owners envisioned the Grand Theatre as an experience-oriented venue, well-conditioned with a robust A/V system and multi-media digital effects. The objective was clear: the entire system must be aesthetically pleasing with a small footprint and great Hi-Fi sound quality. Local Powersoft distributor Shenzhen EZpro Sound & Light Technology Co., Ltd supplied the EAW loudspeaker systems and Powersoft amplifications.
The architectural layout of the venue brought unique challenges for its sound system design. Featuring nine 6 x 5 meters concave ceilings and a huge glass lighting fixture as its centrepiece, the structure inevitably called forth sound interference and focusing issues.
"The concave surface directs the sound reflection to a specific area, making it louder here and there and almost impossible to achieve consistent coverage," Technical manager, Mr Lian Xuejun explained.
After modelling with EAW Resolution and EASE 4.0 software, Lian specified a complete EAW house system featuring the KF720 three-way line arrays. An avid Powersoft patron for years, it was no surprise that the Powersoft M28Q and M50Q were his amplifiers of choice.
The PA system adopted a stereo configuration: the left and right line array, each consisting of six KF720 modules, are hung separately on the splayed walls on both sides of the stage, providing even coverage for the entire space. To fulfil the theatre's aesthetic requirements, all subwoofers and monitors were installed and hidden within the walls consisting of six EAW NTS250 subwoofers, three on each side installed in the splayed walls. Four further EAW MK8126iU enclosures were unobtrusively installed on the proscenium wall, alongside four EAW VFM129 full range loudspeakers acting as mobile stage monitors.
Lian said: "The nominal coverage angle of KF720 line array speakers is 110°(H)x12°(V), which perfectly avoids the concave ceiling and help minimise interference, which effectively helps to improve the speech intelligibility."
To cater for other function needs, the theatre also installed eight EAW CR72z two-way, passive full range loudspeakers on the side and back walls of the audience area to provide for a true immersive surround experience.
A 40 channel digital mixing system comprising Allen & Heath's GLD112 Control Interface, AR2412 and AR0804 AudioRacks handles the audio control and mixing. All PA systems are optimised via an EAW UX8800 digital signal processor and powered by Powersoft M series digital amplifiers – three M28Q and four M50Q.
Rack space saving and power efficiency that is second to none, were some of the factors behind the Grand Theatre's decision to run with the Italian brand, as Lian relates, "Powersoft was chosen mainly because of its outstanding high efficiency. With patented PFC technology, Powersoft amplifiers can adapt to a wide range of voltages and will not reduce the output even in very low voltage levels, ensuring maximum output in any circumstances. Besides, Powersoft M series amplifiers only takes up a single rack space unit, which leaves a very small footprint and allows for rapid heat dissipation, ensuring a safe operation at all times."