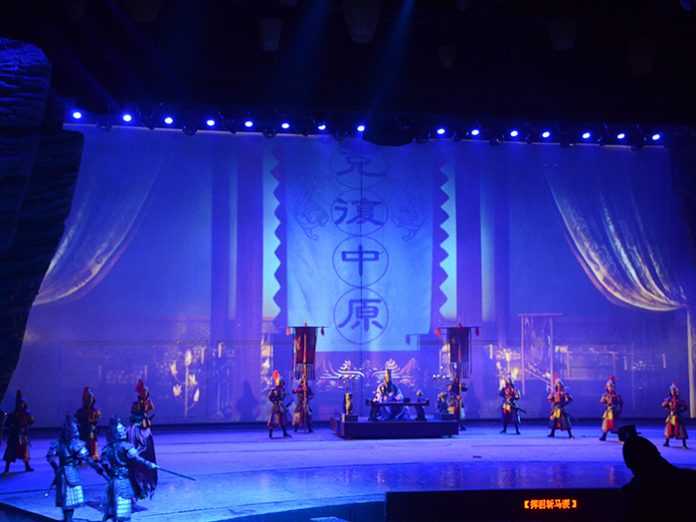 Powersoft amplification has been used to drive the sound at a powerful stage play at the Jinguan Theatre in China's Shaanxi Province.
The production ran for an entire season to sell-out houses at the 600-capacity theatre where a combination of X4, Duecanali and M-series amplifiers were specified by the Italian manufacturer's Chinese distributors, Shenzhen EZpro Sound & Light Technology Co., Ltd to drive an EAW QX364/SB1001 system.
The play, Chu Shi Biao is adapted from the historical novel Romance of the Three Kingdoms, written by Luo Guanzhong during the Ming dynasty. It focuses on Zhuge Liang, a chancellor (or prime minister) of the state of Shu Han during the Three Kingdoms period, and describes historical events such as Meng Huo being captured and released seven times, as well as the Northern Expeditions and Empty Fort Strategy.
The sound reinforcement was supplied to Xi'an Genius Audio & Vision Technology Co. Limited, and system design was by Zhang Xianjun from EZPro's Xi'an office. His task was to achieve even and intelligible coverage of all dialogue as well as the musical elements, which included play-ins from both Denon and Avid Pro Tools devices. Powersoft's integrated DSP combined with Symetrix and EAW's dedicated UX8800 system manager to ensure the sound was fully optimised.
The task proved challenging, since the theatre is raked and fanned in an arc shape, with the front row measuring 10 metre in width but the back row spanning a width of some 35m — making even coverage difficult to achieve.
EZPro's solution was to deploy several Powersoft systems, assigning a pair of the new flagship X4s to drive the seven QX364 full range loudspeakers and pair of SB1001 subwoofers that formed the main L/C/R system. In addition, two Duecanali 3904 drove the four VFR159i ceiling loudspeakers, providing effects, while eight M-series M30D and M50QD amplifiers powered 12 EAW VFR129i (stereo effects), a pair of EAW VFR159i fixed monitors and four VFM129i mobile monitors.
EZPro's Wanda Cao is in no doubt why the X4 was the perfect choice to handle the main system. "First of all they are suitable for Single-Phase, Bi-Phase or Three-Phase operation from 85V AC up to 460V AC; secondly, the Powersoft Green Audio Power technologies improves power conversion efficiency and minimises the 'carbon footprint' — and therefore the operational costs; and finally, the integrated top-grade DSP allows recall of loudspeaker data files."
On top of that, she says, Powersoft X series provides two Dante streams, allowing an elegant digital signal transportation path, eliminating the need for a large number of bulky analogue cables.
But overall, EZPro realised that the massive power output would be more than sufficient to drive EAW QX series, which is processed within the Powersoft Armonía DSP, while the compact form factor offers considerable space saving advantages.
In summary Ms Cao said a combination of flexibility and reliability, coupled with the excellent brand image of Powersoft, had contributed towards a first-class sound package, and left the show's producers with a smile on their faces.