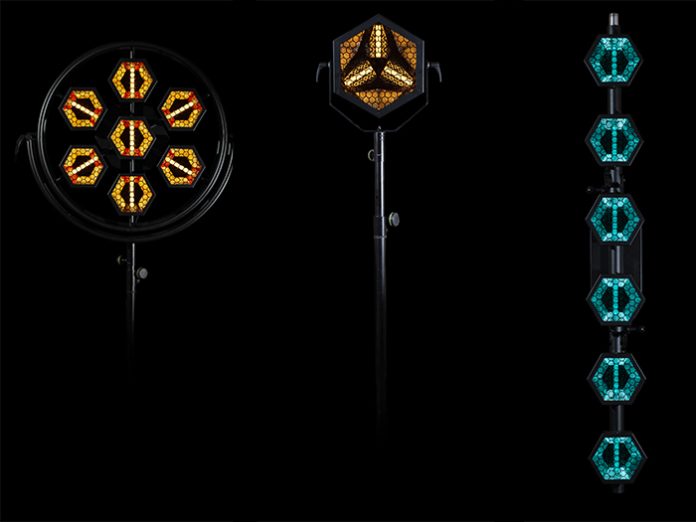 EVO Collection is the latest family of products in the Portman Lights portfolio. The P1 Retro Lamp, P2 Hexaline and P3 PIX3L have been given a new quality with powerful LED sources, specially redesigned reflectors and advanced electronics. The new products are a breath of fresh air, combining timeless hexagonal shapes with innovative sources, faithfully reproducing all the strengths of halogen light.
The total power of the LEDs in the new luminaires ranges from 210W to 340W depending on the model (210W in P3 EVO, 300W in P2 EVO, 340W in P1 EVO). This is made up of original main sources that faithfully purely emulate halogen with a smooth dimming. At low light intensity, they light up with a warm colour of 1600K and at maximum brightness they reach 3200K. User can pick different dimming curves. There is also strobe mode available. In each fixture, these main sources are paired with RGBW sources that fill specially designed new lamp reflectors with colour.
Each unit can be powered by any 110-240V (50-60 Hz) current thanks to the use of voltage-adjusting electronics.
The products are equipped with 5-pin XLR (input/output) connectors. It is also possible to use a WDMX module so that the luminaires can be controlled remotely. Each luminaire is featured with 6 DMX modes with a high number of channels (9-47 Ch in P3 EVO, 12-67 Ch in P2 EVO and 13-77 Ch in P1 EVO) and has built-in macros to run the lamp in standalone mode. The electronics supports the RDM protocol.
EVO Collection is a timeless and well-loved design based on the successful hexagonal design. It's a throwback to the first iconic products in the company's portfolio, referencing retro-style honeycombs. Each design is patent protected.
The premiere of the lamp happened on 25 January, 2023. Since that day, distributors in more than 55 countries are supplied with demonstration units. The first pieces of fixtures from the new collection will be available on the markets in the second half of February.