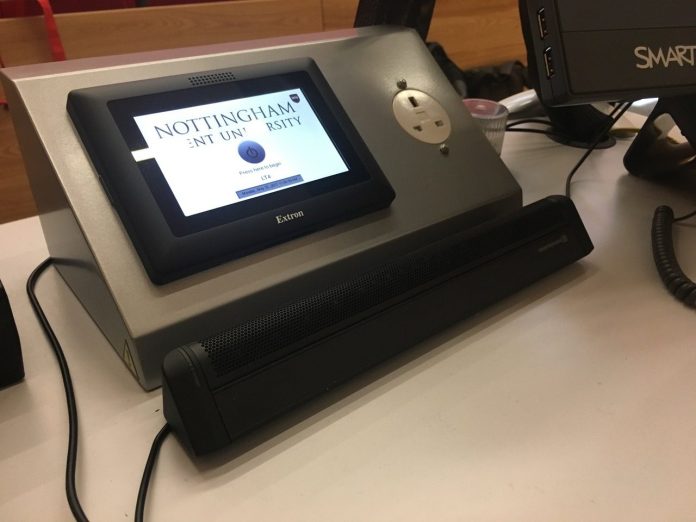 Nottingham Trent University (NTU) is a truly global university. Boasting a strong and internationally recognised research status, NTU offers one of the best employability records in the country, with 94% of students progressing to full-time employment or further education within six months of graduation. One of the UK's leading new universities, since 2004, NTU has invested more than £350 million across its three campuses, developing world class teaching and learning facilities. A stated goal of the university is that its teaching estate and the technical support behind it, should be first class. NTU's investment in state-of-the-art AV systems reflects this commitment and POLAR Integrated Solutions has co-operated with the university's AV Team Leader, Stuart Loughran, on a number of projects designed to meet the highest standards.
A feature of modern educational practice is 'lecture capture', an umbrella term to describe any technology that allows educational practitioners to record what happens in their classrooms and make it digitally available to their students. The advantages of this are clear. Students are able to catch up if classes are missed, content may be closely reviewed and also may be retained for course development.
Central and absolutely crucial to the process of lecture capture is recorded audio. It is clear that whilst any problems with the visual aspect of lecture capture might compromise the results, poor audio quality would render the whole exercise futile. In simple terms, a good quality well-positioned video camera should offer a straightforward solution in terms of covering the required area of a lecture theatre. In audio terms, matters are less straightforward. NTU wished to install a solution that would enable high quality audio capture, whilst allowing teaching staff the freedom to deliver their content without any restriction of positioning or movement. Traditional microphone solutions are often unpopular with lecturers. Where boundary microphones restrict movement, lavalier microphones also present problems. Microphones can be unwittingly obscured by clothing, sudden movements can create noise and batteries frequently run flat at the wrong time, all of which might conspire to ruin the recording of content. Stuart Loughran consulted with POLAR as the best way to achieve optimum recording without inhibiting lecture delivery. POLAR recommended a solution based on beyerdynamic's patented Revoluto microphone array technology used in conjunction with Biamp Tesire Forte DSP.
Integrators Nottingham AV were engaged to install the systems in 6 of the university's lecture theatres. Each comprised 3 x beyerdynamic RM30 vertical microphone arrays suspended from the ceiling and 2 x MPR 210 horizontal microphone arrays on lecterns. Used as a desktop microphone, the pickup range of these exceptional products far exceeds that of conventional gooseneck microphones, with the result that the speaker can move freely without the need to concentrate on speaking directly at the microphone. At NTU, suspending the RM30 microphones was a more discreet option, leaving the stage clear. As the speaker leaves the capture area of the MPR 210 and walks around the stage, the 3 x RM30s ensure no loss of coverage, so (s)he is always in the field of pickup.
For DSP, a Biamp TesiraFORTE AI digital audio server was placed in each theatre interfacing directly with a PC via its USB port. Each PC uses Panopto software specifically designed for lecture capture to record the audio and make it available to students. The TesiraFORTE AI has up to 8 channels of configurable USB audio and also provides: extensive audio processing, including signal routing and mixing, equalisation, filtering, dynamics and delay, as well as control, monitoring and diagnostic tools. It is an ideal solution for applications like the NTU setting, where high quality audio is essential.
Stuart Leader, Director at POLAR Integrated Solutions commented: "This was a straightforward installation, the beauty of which lies in the combination of two exceptionally well-conceived technologies to achieve fantastic results. It is vital in educational applications such as this, that nothing is missed and every word can be heard without effort. The beyerdynamic array microphones ensure that the first part of that equation is achieved without compromising the comfort of the presenter and the Biamp DSP delivers that audio perfectly for recording."
Stuart Loughran, Audio Visual and Media Services Team Leader added, "For speakers who like to roam away from the lectern and in front of the screen, the combination of beyerdynamic Revoluto MPR 210 and RM 30 microphones creates a complete sound stage with great pickup. The Biamp Tesira Forte DSP binds everything together to create a high quality audio experience, eliminating the ambient noise created by air handling, projection and general room noise, to leave students with a clear recording. The DSP outputs directly into the PC resulting in a much cleaner recording than if the PC itself processed the audio. Overall we are very pleased with the quality and success of both the microphone and DSP solution in what was potentially a very tricky project; for our larger venues in particular, it will definitely be the way forward."