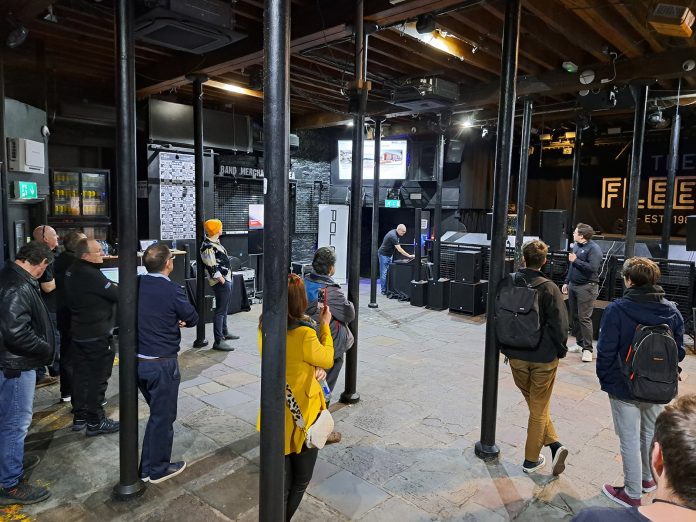 After the COVID-enforced hiatus of recent years, POLAR went on tour to host a series of events across the UK which allowed visitors to enjoy demonstrations, Q & A sessions, and hands-on experience of a range of commercial and pro audio products.
The POLAR roadshow visited Bristol, Milton Keynes, Bradford and Biggar, attracting healthy numbers at each event, many of whom had travelled significant distances to attend.
HK Audio headlined the show, with system demonstrations across the range, featuring the new Linea Mkii and the mighty Linear 9 LTA system.
Also in attendance was the Midas HD96 console, as well as the Atmosphere processor from Atlas IED. Other brands featured in the lineup included Lab Gruppen, Tannoy, and Bluesound Professional.
According to Business Development Manager, Andy Plunkett, the response to the shows was excellent:
"We had a great time bringing the POLAR Roadshow to some really cool venues throughout the UK. The turnout to all of the events was gratifying and it was great catching up with existing customers and making new contacts; it made all the preparation (not to mention all the load-ins and -outs!) truly worthwhile.
"The HK Audio system demonstrations were universally well received; we have provided numerous system quotations since (including for installation into one of the Roadshow venues, through an attending integrator), and were even fortunate enough to have orders placed on the day on some occasions.
"It really goes to show that there's nothing like a live, hands-and-ears-on demo to inspire an invested and attentive audience.
"As well as the HK Audio demos, Midas' flagship HD96 console was a big hit, ably demonstrated by our own Nick Bellis, and once again, putting this amazing console under the fingers of our guests was a terrific opportunity for them to get a feel for its power and flexibility, particularly as we are starting to see evidence of it appearing on show riders.
"We also had great interest in the Atmosphere system demonstrations, where we were able to show its super-intuitive programming interface and how that opens up the plethora of features available for applications from hospitality to education."
The success of the shows has prompted the POLAR team to begin planning its next series of events, which again will draw from its comprehensive brand portfolio. Plunkett concluded:
"All in all, the shows were a huge success with guests from near and far coming away with a great experience of the products on display, not to mention some cool swag – including some lovely HK Audio socks!
"As well as that, lucky prize draw winners at each session went home with a tasty goody bag including an HK Audio rucksack and a set of Beyerdynamic professional headphones. Such has been the response to these shows that we're sure to do it all again in other parts of the country later in the year, so watch this space for details."