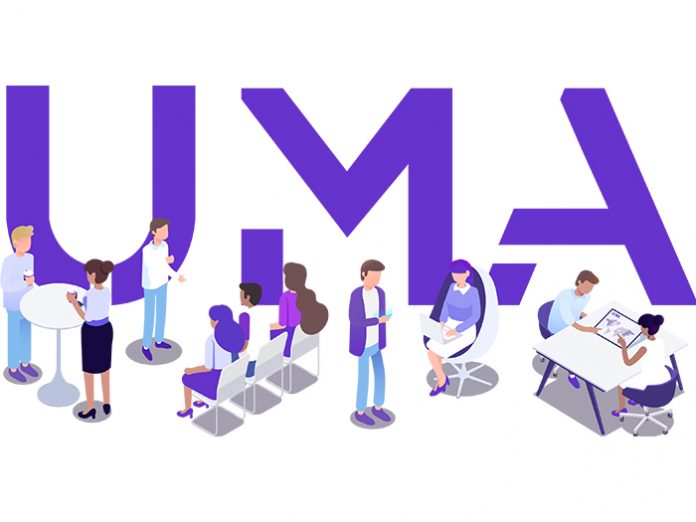 POLAR has announced the addition of UMA to its portfolio. Through its key principle products, UMA provides the tools to make the workplace a safer, smarter environment.
UMA Vision is a centralised dashboard that allows the user to collect data and manage the technology within a workplace from a single pane of glass. The data collected supports the creation of flexible working strategies related to how workspaces and resources are being utilised, and allows facilities and IT managers to make data-driven decisions about future investment in those areas.
Using the UMA Vision dashboard, users have the ability to agnostically monitor cloud connected Internet-of-things sensors and IP a connected devices on the network, to monitor and manage status, technical stats, power cycle, latency and more.Depending on the device capabilities, additional stats can be reported to reflect environmental metrics such as noise and sound quality, or video collaboration stats including call latency and duration.
UMA Book helps to overcome the often complex and frustrating process of booking workspace resources such as meeting rooms, desks and car parking spaces, using a web browser, mobile application, chatbots in Microsoft Teams, Cisco Webex Teams and Slack, or even using the voice digital assistant. Quick to set up and fully brand-customisable integrating into Microsoft Office365, the user interface is intuitive, making it easy to use to book resources and report business data on resource utilisation and occupancy versus capacity, supporting flexible working strategy and safe return-to-work.
UMA digitizes a workplace floormap in 2D and 3D, enabling social distance parameters to be set and the O365 integration provides the ability to generate booking and contact trace reporting, supporting a heathy, productive work environment.
UMA Sense provides IOT sensor technology for the workplace. Real-time room sensors inform staff whether a room is occupied, and allow it to be booked by simply walking in and released in the event of a no-show, improving workplace meeting culture. Sensors can also monitor temperature, humidity, CO2 and other particulate matter relating to air quality, electricity usage and more, whilst providing anonymous occupancy monitoring for COVID-19 compliance.
Will Turney, Head of POLAR Integrated Solutions commented: "We are very excited by the potential that this British brand brings to the market. UMA puts the user experience at the forefront in a fast-moving world, where organisational efficiency is ever-more crucial in respect of cost and sustainability. The ease of use on the ground for personnel and facilities managers, coupled with valuable data about the use of a company's resources, make UMA a huge asset for business."
Nathan Rogers, Head of Channel Sales at UMA added: "I have first hand experience of working with the POLAR and know their expertise in solution driven projects. I'm very pleased to be working in partnership with the POLAR team to build UMA's market share. With the growing need for hybrid and agile working, businesses need critical data to understand how their buildings and resources are performing. They also require the ability to understand and manage employee welfare within the environments to monitor occupancy versus capacity. From one pane of glass, businesses and employees can book resources, monitor air quality and online AV devices, and report data to make informed decisions. I believe POLAR and UMA will continue to build a strong offering to the market with some exciting new features to come in 2022."