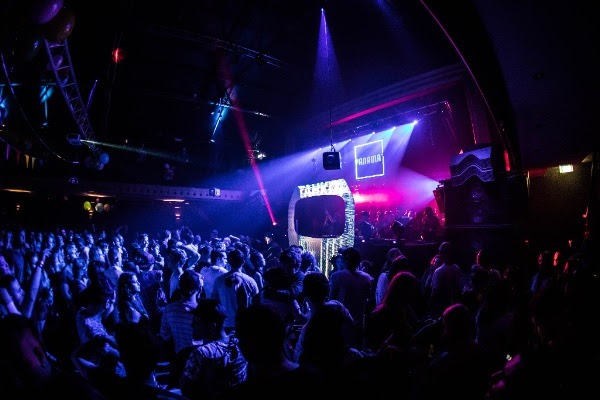 When longtime San Francisco night club veteran, Gina Milano opened Halcyon in November 2016, she was determined to deliver a unique and fresh nightclub concept for her patrons. As the city's only 24-hour licensed nightclub, Gina knew that long DJ sets needed to be accompanied by great visuals and the highest possible audio quality. Put simply, poor sound means customer fatigue and in a round the clock environment like Halcyon, that was not an option.
"From the beginning I knew I wanted Halcyon to be different," said Gina. "I knew there were no other night clubs that had a 24-hour license and my mission was to make Halcyon a place for DJs to play their sets with incredible sound as long as they wanted to and bring in customers who valued their club experience." The challenge for Gina and her team was that Halcyon was a brand-new club, stationed in a brick warehouse building, built in 1906, unfurnished, unequipped and at high-risk of sound leakage. In a small four-corner venue, Gina needed a well-directed system that would project a classic sub-bass ambience but keep the sound contained in the venue.
Direction of sound was a huge issue in the design process for Halcyon which specialises in mainly house, techno and some semi-live shows. Gina discovered Pioneer Pro Audio was interested in establishing a presence in San Francisco and with Halcyon's extended operation hours, lengthy DJ sets and intimate space, she needed equipment that would match the underground atmosphere of the club and maintain visual appeal. "I was already aware that Pioneer DJ hardware was standard for most, if not all DJs, so I began exploring what sub-bass and other amplification equipment options were available. It was pretty obvious to me that I wanted to go with Pioneer Pro Audio equipment for a few main reasons, sound direction to avoid sound leakage and the added bonus that some of the equipment added a nice decorative touch to the venue, like the gold grilles on the DJ monitors and XY-215HS dual 15″ subwoofers." Halcyon's DJ booth is set opposite the entrance and the stage also hosts seating for table-service customers. It was imperative that this area was not overwhelmed by poorly directed sound that might lead to customer fatigue.
"The installation was pretty seamless and what it really came down to was the correct placement of the XY-215HS dual 15-inch and 18-inch subwoofers," comments Gina. The complete installation including the sound-proofing of the ceiling was carried out by Don Lynch of CAVS and the system was tuned by sound pioneers, Andy Kayll and Rich Walsh of DC 10 fame.
Five months after Halcyon's initial opening, the venue attracts 300-600 customers per weekend, enjoying musical acts such as Dubfire and Eats Everything. Gina Milano is proud of what has been achieved. "The DJ space is excellent, encouraging longer sets and the Pioneer Pro Audio installation delivers powerful, even coverage of sound throughout the venue, leaving no dead space and most importantly no complaints of customer fatigue."