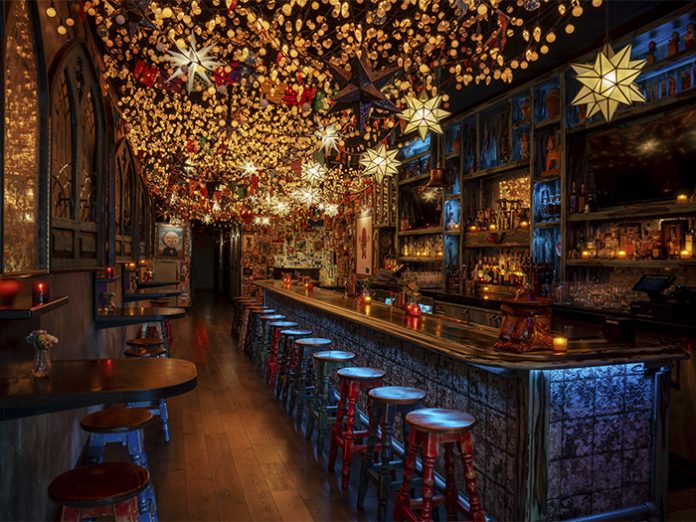 The Lucky Day Tequila & Mezcal House is a cozy, 3,000-square-foot, 100-person capacity bar stuffed to the brim with iconic Mexican art and artifacts, colour, and an explosion of light and sound. A canopy of 15,000 colorful, programmable LED lights of all shapes and sizes dance and play above patrons as they sample one-of-a-kind cocktails and sway to the enchanting music.
Local Las Vegas restaurant and bar development firm, Corner Bar Management, opened the Lucky Day Tequila & Mezcal House in early 2020. Corner Bar Management focuses almost exclusively on creating unique spaces within the artistic Freemont district of Las Vegas. Lucky Day was the company's sixth project at the time, and two more restaurants have been opened since. A foundation of all Corner Bar Management projects is a well-equipped, high-quality sound system.
"Most all our venues are very dance forward. We create unique, DJ-driven environments, and we pay a great deal of attention to the sound system; music is a big part of our atmospheres, so we need to get it right," explained Ryan Doherty, Founder, Corner Bar Management. "To match the size and aesthetics of Lucky Day, and for the level of quality we wanted, our integrator suggested the XY Series from Pioneer Pro Audio. It has worked out perfectly for us."
"We've worked with Pioneer Pro Audio systems in similar venues in the past, they are always flexible, easy to install and set up, and have a great sound," said business associate, Bob Athey. "When Ryan explained that they wanted high-quality, party-ready audio from a system that could also blend into the aesthetics of the bar, I knew he needed the XY Series."
With the built-in Pioneer Pro Audio XY Series sound system, and a fully equipped DJ booth featuring Pioneer DJ equipment, Doherty explained that the entire bar is designed to become a dance floor as the evening progresses. Once the party atmosphere gets underway, the staff pulls out the bar stools, moves tables, and Lucky Day becomes a full dance venue — there's no seating after midnight.
"The space is small and very theme-driven, so we tucked away and hid the subs all-round the bar, and the mains that we do see are flown above the dance floor, and they look really good. It's an attractive system," added Doherty. "The system blends in nicely, and it sounds great. The first time we fired it up, we had a lot of decorative stuff shaking off the walls; if things weren't secure, this was going to happen, so there was a lot of glue gun work done in this bar!"
The Pioneer Pro Audio XY Series is a compact, versatile PA/monitor loudspeaker system perfect for venues and applications of nearly any size. The system's unique high- and mid-range blended design produces a tightly controlled sound dispersion for an extraordinarily natural sound. This powerful wave throws a great distance, filling all corners of a room with bass, punch, and clarity that is powerfully comfortable for the audience. Because of the cabinets' unique design, fewer boxes are needed as compared to other systems making the XY Series easy to transport, set up, and install.
Doherty added that Lucky Day can also be rented out for private events, including wedding receptions, birthday parties, and company events. The venue has four sound system zones, the main room, a front entry area, and front and back patio areas. Everything is tuned for smooth, consistent coverage, with appropriate sound levels for each zone. All the Lucky Day DJ booth equipment is from Pioneer DJ, including the players, mixers, controllers, and booth monitors.
"We normally have DJs playing and controlling the system, and they can read the room well, so we don't need separate zones for separate genres or separate sources. We have one source for everything, but it sounds great everywhere," said Doherty. "Everything is tuned well, so there's no ear fatigue, and you can get pretty loud but still have a conversation right in front of the speakers. It's just so clear — it's crystal clear. It's a warm, smooth sound that fits the space perfectly; we're very happy with it. We would absolutely use Pioneer Pro Audio systems again."