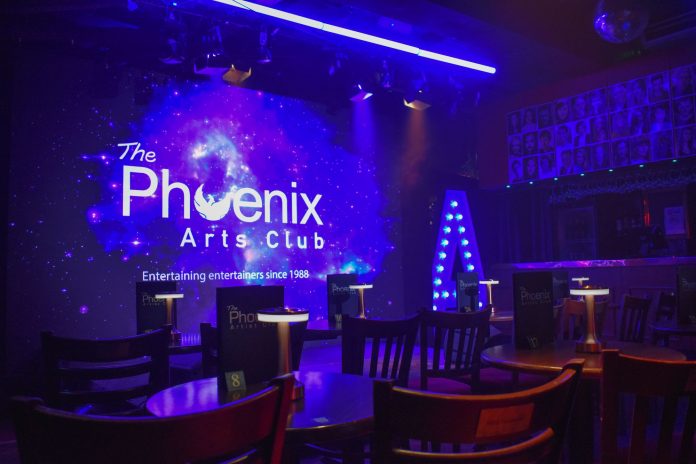 Phoenix Arts Club, London's home of cabaret, live music, musical theatre, burlesque and LGBTQ+ entertainment; has upgraded its technological offering thanks to Music Venue Trust (MVT)'s Sound + Vision initiative.
As collaborative MVT partner and long-standing supporter of Phoenix Arts Club, technical solutions specialist White Light (WL), facilitated and managed the project.
The scheme enabled Chauvet Professional to install its highest ever resolution LED video solution in the iconic venue, significantly elevating the production value for its diverse events programme.
Launched in 2017, MVT's Sound + Vision initiative aims to deliver a 21st Century live entertainment experience to artists and audiences all over the UK.
Having supported nearly 50 venues to date, the scheme supports venues that are seeking funding via the ACE, making industry leading technologies accessible to grassroots venues.
Jason Larcombe, WL's Senior Project Manager, comments: "Thanks to our ongoing work with MVT and long-standing relationships with Phoenix Arts Club and Chauvet, we are thrilled to have been able to provide support for this vital scheme.
"With our roots and heritage in London's Westend, it's been hugely rewarding to see one of its legendary venues transform overnight through innovative technology."
Using its slim-bodied F2 2.9 mm pixel pitch LED video panel, Chauvet built a 4m x 2.5m screen in the 100-capacity venue.
Sam Bowden, Chauvet's UK Sales Manager, says: "At Chauvet we were delighted to be involved with this great project at such a prestigious venue. F2 is designed for applications where crystal sharp clarity is essential from any viewing angle, even from as close as 7.5ft. Having spent many an enjoyable evening at Phoenix Arts Club ourselves, we look forward to spending many more there with their fantastic new screen!"
Peter Dunbar, Managing Director at Phoenix Arts Club, adds: "This upgrade has been game-changing for our venue. Seeing a state-of-the-art screen as soon as you enter, transports guests to an exciting new place. We can now add depth to performances, using dynamic content to show artists and hosts, even when they are not live on stage.
"We're proud to now offer a premium Westend theatre experience in an intimate cabaret environment, without having had to significantly increase our ticket prices. We are incredibly grateful to WL, MVT and Chauvet for making this a reality and we're excited to further diversify our extensive events programme thanks to this scheme."