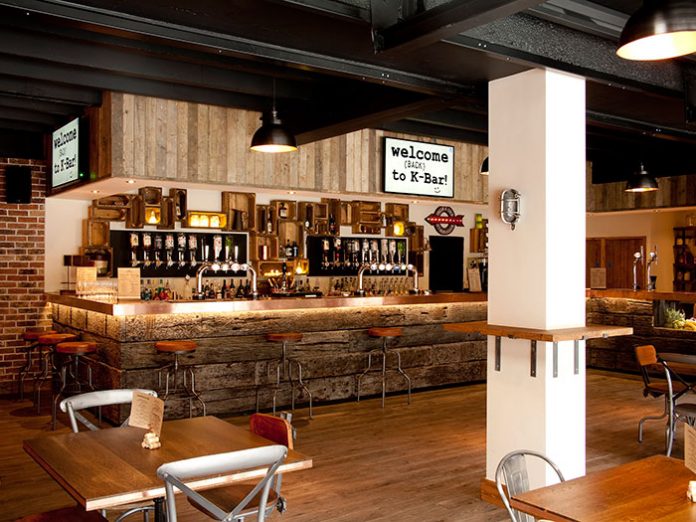 Situated on the University of Kent's Canterbury Campus, the popular K-Bar recently underwent a major design overhaul, with the addition of a juice and smoothie bar, and boasting a new state-of-the-art AV system, designed and installed by Penguin Media Solutions, which includes end-to-end Martin Audio CDD loudspeakers.
Dylan Thompson, Project Manager and system specifier commented: "With the arrival of CDD I don't need to look elsewhere, which is a nice position to be in. CDD has been a revelation — it's well priced, sounds great and I can spec it for just about anything."
Kent Hospitality manages all the university's bars and leisure facilities and had previously worked with Penguin, which has already created trust between the two departments. For this reason, Kent Hospitality were confident Penguin would do a great job if given the contract for renovating the bar's audio system.
The brief this time was to develop a technical infrastructure for a multipurpose facility that would trade as a sports bar by day – with a small stage for live bands – and DJs coming on weekend nights. It needed to be cost-effective, provide multiple zones for flexible audio and video routing, and offer simple control for bar staff. Also, with a C-Burn 'Secret DJ' pumping background music through the sound system during daylight hours the CDD has certainly been put through its paces.
Working under the Project Management of John Holley (JSH Project Management) the installation time was an issue as it had to be completed during the Easter recess, so meticulous planning and collaboration with the other trades was essential.
At the Stage end are a pair of CDD10 (10") speakers, wall-mounted on Powerdrive brackets either side of the stage, and a CSX212 (2 x 12") sub. Facing this at the opposite end of the room are a pair of CDD8 (8"), left and right and another CSX212 sub. It can therefore function as a 2.1 cinema surround system or for student presentations, while if the DJ wants to work from that end the volume can be adjusted accordingly.
A separate sofa/loose furniture area, away from the main action, is served by a pair of CDD8, with a further pair of CDD8 providing a warm sound at the bar. In this four-zone design, any source can be routed to any destination via Soundweb London DSP, operating under the master control of a Crestron processor, which also handles the video routing to the seven screens. All local control is performed from an iPad with a custom user interface from Penguin.
Summing up, Dylan stated that there were a lot of different speaker brands previously all clashing with each other. By standardising on CDD, and halving the number of boxes the sound has improved massively.
Kent Hospitality's Keith Williams confirmed that the sound system element needed to be capable of delivering unobtrusive yet powerful foreground and background sound reinforcement. Penguin was required to programme the system in zones so that volume across the space could be adjusted according to use and specifics of event. The new CDD system more than met the requirement.
Keith stated that the clarity of sound is stunning, and the ability to have both loud music and still allow conversation is amazing. The speakers spread sound in a consistent way as revellers walk through the space. At the same time, the speakers themselves are unobtrusive — they blend well and are discreet as requested.
Finally, Keith concluded that customers have commented on the vast improvement in both sound and visuals within the bar. Everyone involved with the installtion are grateful to Penguin for recommending the Martin Audio CDD series, which has more than exceeded the expectations and brief.
https://www.martin-audio.com