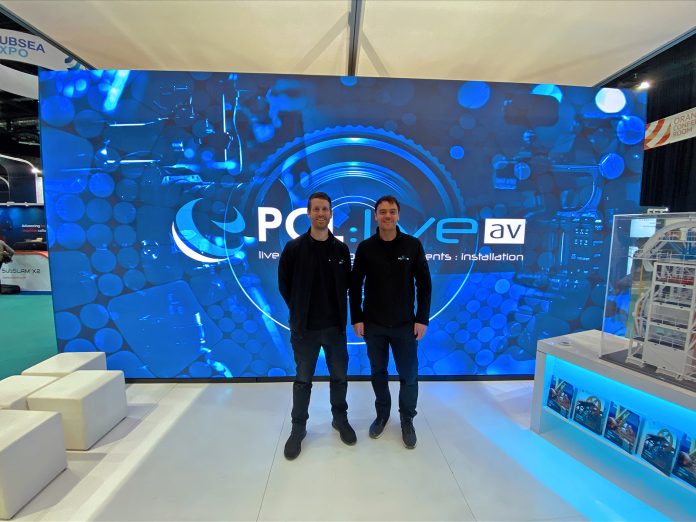 PCL Live, founded by Adam Wilson, is one of the leading audio-visual companies in the Northeast of Scotland.
With impressive industry experience in installation projects, event equipment hire and operation, live streaming, and video production services for over 15 years, Wilson has driven PCL Live to operate using only the latest in modern technology, with a large focus around Leyard Europe products.
PCL Live has specialised in being the only company in the area with Leyard Europe's high-end technology, which means it provides a one-of-a-kind proposition to its clients for both installations and events.
"One of the main benefits of Leyard screens is that they're modular, so we can build them in any configuration needed, which gives us a unique selling point," said Alex Sherman, Business Development and Technical Manager at PCL Live.
"Adam has always wanted to push boundaries, and expand delivering the latest low power, green technologies and we didn't see any other AV companies in the area doing this.
"One of the reasons we wanted to work with Leyard Europe is because they offer a complete range of screen solutions with a strong clear environmental policy as well as super power efficient products that will fit with any project we're asked to do. I don't see us going anywhere else."
PCL Live have had the privilege of providing Leyard Europe's NEV, CLM and CFO products to their clients for all kinds of events, from company launches to backdrops for outdoor celebrations.
Providing both indoor and outdoor options has allowed PCL Live to cater to any requirements from their diverse range of clients.
"Using Leyard Europe products has given us the opportunity to assist in some truly unique and exciting projects," said Sherman.
"We have provided two 6 by 3m outdoor video walls for the Gothenburg Greats event for Aberdeen football club, which was a huge occasion for the city.
"We have also provided a host of different-sized video walls for events and conferences that have blown the clients expectation out of the water. The feedback we have had from using these products to display their presentations, videos and graphics has been fantastic and it is always a special feeling when you watch a client see their project come to life."
The versatility of the 4K LED panels and the cost-efficient way in which they run is something Sherman appreciated, but he also expresses his admiration of the lightweight design.
"It's incredibly easy to set up, and it's very light," he said. "Most clients are surprised we can transport the whole wall in one van – usually something like this could take three or four vans due to vehicle weight capacities – so it is extremely cost-efficient for us and our clients, as we can pass that cost savings on."
Being able to offer this technology not only for events and rental purposes but for office installations, too, has allowed PCL Live to help its clients increase their functionality, all whilst reducing their energy consumption.
When the team had the opportunity to work with engineering procurement and construction provider Global E&C's Challenge Centre to upgrade its existing LCD wall, Wilson had his eyes firmly locked on Leyard Europe's interactive direct view all-in-one LED walls, and the result is technologically stunning.
The striking 162-inch 4K LED screen with touchscreen functionality is not only perfect for Global E&C's Challenge Centre in terms of its technical specification, but it is environmentally focused, prioritising the repurposing of materials and reducing energy usage.
"Their previous screen was made up of 12 individual LCD panels, costing thousands per year on energy, even before taking into account the heat that was being generated required the air conditioning to be on all the time," Sherman explained. "The running costs are now only a few hundred pounds per year, and functionality has increased 10-fold."
"We are always delighted to support PCL," said Leyard Europe's Business Development Director, Luke Marler-Hausen. "It is really making waves in the market with its strong environmental values and attention to detail that delivers amazing results for its clients, proving that being green doesn't impact on the client experience or return on investment.
"The story here about the all-in-one solution is a typical example of how Leyard can support business collaboration environments, proving that the antique systems of the past can be replaced by our state-of-the-art interactive direct view LED solutions. Just in sheer power cost savings, it is a huge statement of intent."
The impressive Global E&C installation also boasts a Logitech video conferencing system with a PTZ camera for presenting, enabling increased functionality.
"Leyard's attention to detail and customer support was also invaluable," Sherman concluded.
"With its help, we provided the relevant training to key stakeholders within Global E&Cs Challenge Centre, so we were able to not only provide them with an innovative solution, but they can also maximise the use of all the LED touchscreen's capabilities."