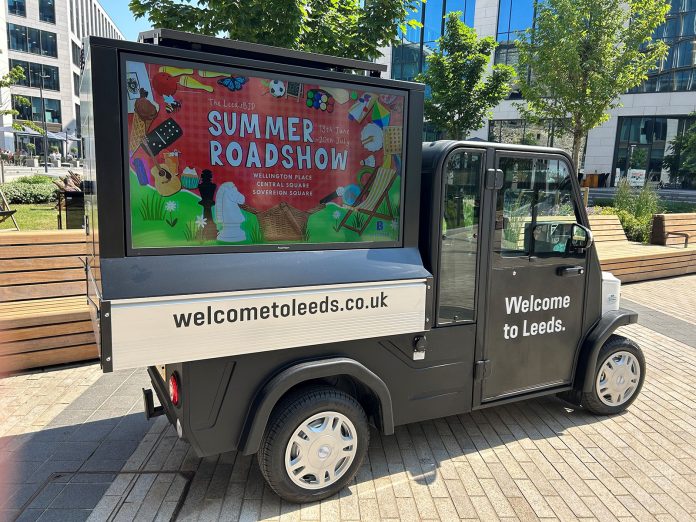 LeedsBID, a not-for-profit, non-political organisation, worked to improve Leeds city centre for all.
The organisation invests in projects, plans and activities to create a positive and dynamic profile for the city, aiming to attract talent, investment and visitors.
As part of its work to make the city more welcoming, the organisation deploys a small fleet of electric vehicles for street cleaning, event installation and delivery.
Always seeking to maximise the impact of its work, the LeedsBID team wanted to equip a vehicle with two battery-powered screens to deliver essential daily information as well as advertise city events and activities.
The idea for the 'Welcome to Leeds' digital media vehicle was born, prompting LeedsBID to consult with Chris Beardwell, Video and Lighting Sales at audio-visual specialists, Pro Audio Systems (PAS) of Bradford, over a way forward.
Chris Beardwell commented: "This was something a little different, but we always enjoy a challenge at PAS! We started by  sketching out some concept drawings and artwork which met with the LeedsBID team's approval, and once we got the green light we set about developing the most practical and effective solution."
Having considered a number of options during an experimental design process, and taking into account the vehicle dimensions and likely proximity of 'viewers', Beardwell settled on Proofvision Aire Plus IP65-rated 55-inch screens set into a custom-built enclosure which replaced the vehicle's standard cage containers.
PAS worked in collaboration with Bradford-based specialist sheet metal and steel fabricators, Fabricate UK, to design and create the enclosure. 
Beardwell continued: "For the battery power, we chose a Bluetti AC300 Portable Power Station with 3 B300 Expansion Units. They hold a total of 9,216Wh of power on a full charge. In a drain test, we carried out with a similar setup, we were able to keep the equipment in the EV running for longer than 24 hours!
"The best thing is that the batteries charge up quickly – an overnight charge on a 13-amp socket and they're back to full charge, although there's plenty of juice if someone forgets to plug them in one night! To further support this system we also added two solar panels to the top of the vehicle to provide a 'trickle charge' whilst it's out and about in the open air."
A Sedna digital signage platform takes care of the display content as Beardwell explained:"Using its Sedna Creator tool LeedsBID create a Sedna playlist of content, messages etc which can be time-scheduled or just played.
"With the playlist published to the Cloud, the EV is equipped with a 5G modem, a Raspberry Pi PC and an Apple TV – the modem allowing the EV to have an internet connection.
"The Raspberry Pi 'pings' the publishing server when a link to the internet is established to check for new content for download and manages the process, while the Apple TV is loaded with a Sedna player app which handles playback. The system enables LeedsBID to handle simple and complex scheduling of content wherever the EV is located in the city."
LeedsBID is very happy with the vehicle which it believes to be the first of its kind utilised by a Business Improvement District in the UK
LeedsBID Operations Manager, Carmine Ruggiero concluded: "We are delighted with our new digital media vehicle – the screens are a great addition, displaying high-quality images and providing us with flexible and highly visible communication as part of our 'Welcome to Leeds'.
"Pro Audio Systems were extremely professional and easy to work with in bringing this exciting, unique, and innovative idea to life."