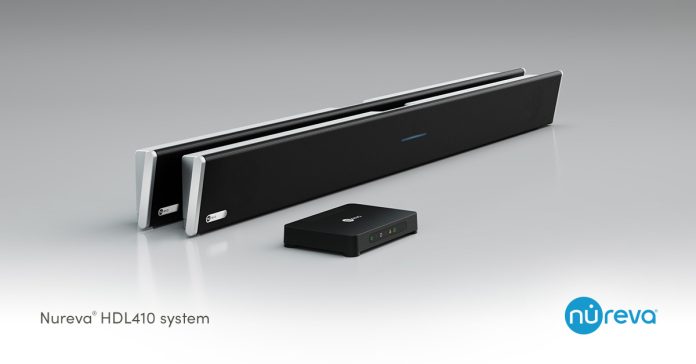 Nureva Inc., an innovator in advanced audio conferencing solutions, has announced that its HDL410 audio conferencing system has been shortlisted for the prestigious AV Awards in the Audio Technology of the Year category.
At the heart of the HDL410 system is Nureva's multi-patented Microphone Mist technology. This groundbreaking innovation fills a space with thousands of virtual microphones, ensuring full-room audio pickup in larger meeting rooms and classrooms.
The system's unique unified coverage map, a first in the industry for extra-large spaces, enables the physical mics from two microphone and speaker bars to be processed together instead of separately, creating a single, giant microphone array that spans the entire room.
Each virtual microphone is targeted with greater precision, resulting in clearer, more consistent audio.  
Designed to meet the growing market demand for simplicity and scalability, the HDL410 delivers great audio performance in extra-large spaces without the cost and complexity of traditional pro AV solutions.
It uses just two wall-mounted microphone and speaker bars and a small connect module to deliver pro AV performance in working and learning spaces up to 35′ by 55′ (10.7 by 16.8m).
This reflects Nureva's IT-first approach to the design of intelligent products that deliver on the need to quickly and cost-effectively enable remote collaboration across an organisation.
For 25 years, the AV Awards have recognised this type of innovation excellence in audiovisual, events and production, and their awards night is one of the most talked about events in the global AV industry.
The ceremony and gala dinner will take place on 3 November 2023, at Evolution London, in the U.K., where the winners in all categories will be announced. 
"We are thrilled to learn that our HDL410 system was selected as a finalist in this year's AV Awards for its unique approach to microphone pickup in extra-large spaces," said Nancy Knowlton, Nureva's CEO.
"Given the many challenges that IT professionals face in equipping these spaces without straining their resources, Microphone Mist technology is one of the breakthroughs they've been waiting for."