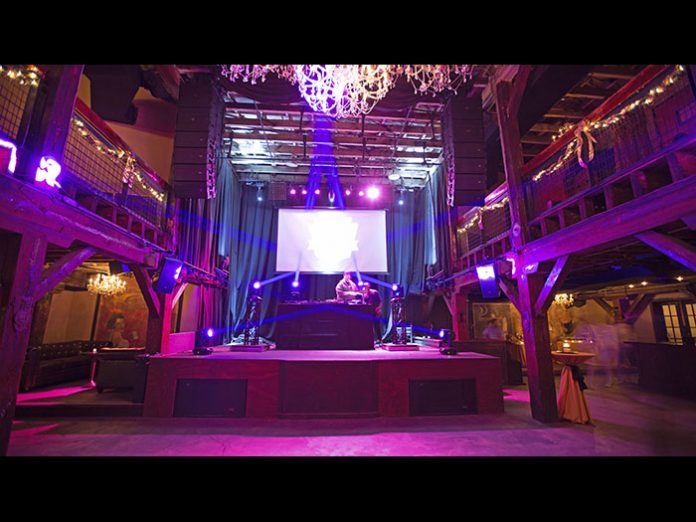 Based in the heart of the Warehouse District, New Orleans' historically relevant and hippest young neighborhood, Republic NOLA occupies a spacious warehouse that has served many purposes throughout its 150-year history.
Republic NOLA caters to a diverse, interesting, and eclectic audience who enjoy music, cocktails, and entertainment of all kinds. The venue just recently completed a major refurbishment and, to ensure the best possible sound for their guests, a new loudspeaker system drawn from the Aero Series 2, Action, Artec, and Vantec catalogs of Valencia, Spain-based D.A.S. Audio was placed into service.
Raven Production Management Group (PMG) of New Orleans, which specialises in all aspects of event production and execution (including system installations), was contracted to handle the deployment of Republic NOLA's new sound reinforcement system. Jason Starkey, the Audio Systems Coordinator for Raven PMG, discussed the project and his decision to utilise the D.A.S. Audio equipment for the installation.
"Republic NOLA caters to a wide variety of audiences by hosting private events, weddings, and theme parties," Jason explained. "It also boasts a wide variety of live music talent across all genres. The venue came under new ownership mid-2015. As part of the new owner's vision and to make an impact for the 10-year anniversary, the entire building was renovated. All three bars were completely demolished and rebuilt, the room lighting was entirely re-done, and new offices were added. Along with these renovations, the production was ramped up. In addition to the new D.A.S. audio system, we also installed a new video system, along with supplemental lighting and control. The installation took place between December 1st and December 11th 2015. The Grand Re-Opening took place on the venue's 10-year anniversary—December 12th."
For the main stage setup, Jason and his team flew a combination of two D.A.S. LX-118A powered subwoofers and four Aero 20A line array elements each for the left-right hangs. For additional low frequency support, they also placed two UX-221A powered subwoofers underneath the stage. For front fills, the Raven PMG crew suspended two Artec 510A point source loudspeaker enclosures on either side of the stage. "Because of the way the mezzanine is designed," Jason reported. "The main hang doesn't quite cover the first floor underneath the balcony. To compensate for this, we utilised six Artec 510A enclosures as a distributed fill system. The main hang, subs, and front fills are all processed through a D.A.S. Audio DSP-4080 four-input / eight-output processor, while the distributed fills are managed by a processor the venue already owned." Rounding out the system, there are also six D.A.S. Action Series M12A powered monitor wedges on stage plus a single Vantec 18A powered subwoofer for the drumfill.
When queried about those attributes that made the D.A.S. Audio equipment the best choice for this project, Jason offered the following comments. "The first thing that pops out for me with this install is the fill system," Jason said. "It might seem minor to most, but the balanced and equal coverage we were able to achieve with such a compact and versatile box is astounding. D.A.S. offers a few different mountable and adjustable rigging brackets for the Artec series. This enabled us to do what was necessary sonically without negatively impacting the aesthetics of the venue. Secondly, the versatility of the processor and D.A.S.net allow the engineers working the venue to handle each night with consistency. The ability to save/recall settings for different types of events in the venue—plus remote monitoring—provide the venue continuity of sound and protection of their investment. Last but not least, the ability to fly the Aero-20A under the LX-118A allowed me to get a little extra low end upstairs as well as coverage of the whole space. The UX-221A have some incredible output levels and a fantastic musical quality not normally found in subwoofers of this size."
For any sophisticated installation, questions inevitably arise. In this regard, Jason rates D.A.S. tech support services very highly. Carlos Henao and Roberto Almodovar of D.A.S. Miami are some of the best people to work with. At the end of the install, both were able to fly out to New Orleans to provide assistance. They're always readily available to answer questions whenever we call."
With the Republic NOLA installation completed and the equipment in use regularly, Jason summed the project up, "I think it's safe to say the venue is extremely satisfied with the install. In the past couple of months, I couldn't go a day without seeing Republic NOLA brag about the new sound system in social media. Countless times, I'll be at FOH and I routinely get compliments from both patrons and touring engineers. Word seems to be getting around town that Republic is one of the best sounding venues in New Orleans."