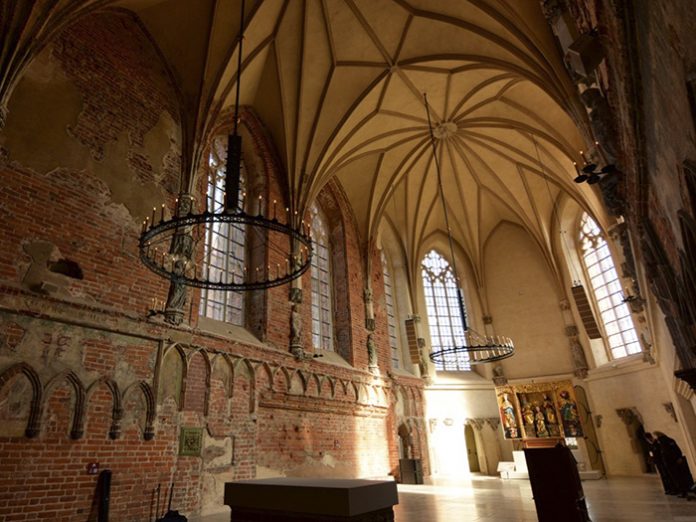 NEXO's sleek contemporary compact loudspeakers are an aesthetically pleasing fit for one of Poland's most valued heritage sites, in the Church of the Castle of the Teutonic Order in Malbork, officially recognised as the largest castle in the world.
The Castle itself is a medieval fortress, completed in 1406, and designated a World Heritage Site by UNESCO 20 years ago. This year, as part of an extensive reconstruction programme in the Church of the Blessed Virgin Mary, LAUDA Audio was asked to design and install a sound reinforcement system to support the permanent and temporary exhibitions that are to be hosted by this historic venue.
The church can accommodate around 300 people in its main hall, attending meetings and presentations, as well as concerts. However, with a ceiling height of 14-metres, the acoustics of this medieval building are demanding.  Reverb time is approximately six seconds, which presented a big challenge for the audio system designers.
"Our most important design objective was to achieve uncompromised sound quality, and multifunctionality for the system," explained Marcin Popek of Lauda Audio, a pro-audio specialist company from nearby Gdansk which is also the Polish distributor of NEXO systems.
For the main system, Lauda Audio selected NEXO's compact GEO M6 line array, recognised for its exceptional speech intelligibility and smooth even coverage. Using elegant white cabinets, two arrays of 9x M620 modules are flown at a height of six metres to cover the long narrow Church interior – nine-metres in width, with a throw of 32 metres. Two LS600 subs per side were used for LF reinforcement, hidden from view.
A dynamic approach to audio-visual presentation called for a surround system, and for this, Lauda Audio has chosen NEXO's super-compact ID24 cabinets. A total of 10 of these small units, with 90×40 directivity, have been installed on the side walls, where they are virtually invisible.  They are set up to work as surround speakers with the main system, or independently controlled for use on exhibition projects. The  twin four-inch full-range ID24 loudspeakers are the perfect solution for this application, designed to be low profile while fitting into awkward and acoustically challenging spaces.
All the audio devices in the Church are connected on a Dante network, and controlled by a Yamaha MRX7-D mixer, using iPad remote control via the RS232 port of the RTI system.