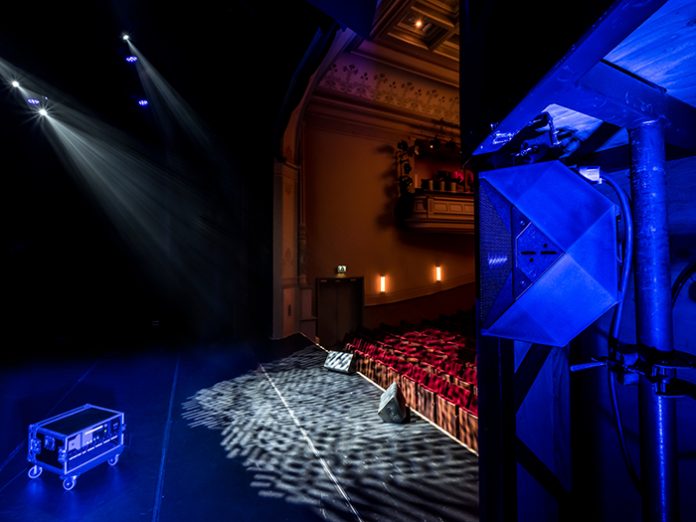 One of Holland's first installations of NEXO's new GEO M10 mid-size line array has been completed in the Stadsgehoorzaal in Kampen, a classic 125-year old city theatre in the traditional Dutch style.
The plush red auditorium of the Stadsgehoorzaal, which seats 480, has just been equipped with a cleverly designed NEXO line array system in a L/C/R configuration, with NEXO's super-compact ID Series loudspeakers for fills.
The design story starts with the theatre's large central chandelier, which challenges most sound reinforcement system designs, obstructing sound from reaching the balcony.  Bert Koenders, from NEXO distributor and installer Iemke Roos*, worked closely with the theatre's head of sound Larz Kemper and his installation team, coming up with a design which deployed small clusters of a pair of NEXO GEO M6 line array modules – these were ceiling-mounted left and right of the chandelier to handle dispersion to the seats in the balcony.
The main PA consists of 4-module arrays of NEXO's new mid-size line array, the GEO M10.  These arrays were mounted left and right on the proscenium arch, with a centre cluster of 5x GEO M6 above the arch.  All these speakers were presented in a special olive green RAL colour, to ensure a tasteful match to the theatre's décor.
Another innovative touch was the installation of ID24 point-source loudspeakers into the proscenium arch itself, artfully hidden yet providing essential front fill along with three additional ID24 units across the front of the stage. For sub bass, the main system uses two NEXO LS18 18" subs, one each side of the stage, and there are small ID S110 partner subs for the front fills.
In addition to designing, delivering and guiding the installation, Bert Koenders programmed the whole system, which operates on a Dante network, controlled from a Yamaha digital console at front-of-house.
In the lobby of the Stadsgehoorzaal, there is also a performance area, which Iemke Roos has equipped with ID24 super-compacts and ID S110 subs, and the theatre also has a second small workshop theatre, fitted out with NEXO PS10 full-range cabinets with LS18 subbass.